How much money to take on Everest base camp trek for personal use
Mount Everest is the largest mountain is the world that has captivate the attention of the trekkers since 1920. In the beginning, when there was not technology and maps available hundreds of trekkers sacrificed their lives only to reach at the peak of Mount Everest.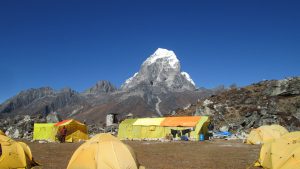 However, with the passage of time and advancement in technology Everest base camp trek has been developed and modernized. People willing to trek can get proper training for trekking and after that, they can reach the top without many any huge sacrifices.
However, it is not as easy as it seems like. You will need proper practice and training for the process. Everest base camp trek is one of the worlds most waited and expensive sightseeing trip also. here we discuss how much money you have to take on Everest base camp trek for personal use.
Do you know how much money to take on Everest base camp trek to buy personal belongings? It depends on your spending behavior & capacity. Normally it is about US$ 10 to 20 each day / person. This article try to clarify you how much cash to take during Everest base camp trek for personal use with general ideas to spending money Everest base camp trek daily budget.
There are few ATM machines in Namche bazaar. Our clients tried to withdraw cash many times but did not work, they complain at our office. I think they are for just to show not for use. When you visit around Namche bazaar must see these ATM heritage in the world. According to our experience we advise you to carry sufficient cash with you. Never depend on ATM and money exchange in Lukla and Namche bazaar in Nepal.
Airport transfers at all locations are provided in the package. Kathmandu to Lukla round trip flight and all food (3 meals a day BLD) and accommodation during the trekking included in package cost. You need extra money to buy your personal belongings, mineral water, extra food, deserts and snacks.