How safe is Everest base camp and what are the tips for trek?
Everest remains the most popular trek must check how safe is Everest base camp before go. There are thousands of climbers who takes this trek. It is the most popular adventure activity in Nepal. Till to base camp it is safe to travel. The journey to the summit is full of dangers especially in the dead some.
But to some extent is journey will totally cool and everyone can go for it. Everest base camp trek difficulty level is high at a certain altitude. But, if you want to begin your trekking experience with Mount Everest, then prepare for this trek properly with exercise.
Everest base camp trek safety 100% guaranteed when you choose professional guide and reputed company to travel Nepal. Check the list of expert design packages in Khumbu to stay safe. No worry, Mount Everest base camp is not in dangerous location.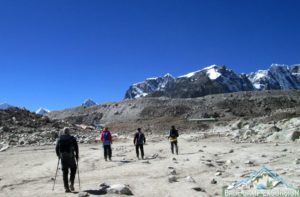 Everest base camp trek
Mount Everest view trek
Gokyo lakes trek
Everest Cho la pass trek
Everest base camp trek via Jiri
Luxury Everest base camp trek
Everest three pass trek
Gokyo to Renjo la pass trek
How safe is Everest base camp?
These days there has been modernization all the trekking gears. Unlike the 90's, the weather forecasting system, communication with the climbers, the rescue facilities have improved a lot. There will be a lack of oxygen, which you will have to adapt, and sudden weather changes. But over looking all the difficulty, it is a lifetime experience, and it will change your life forever. No worry physically fit any one can go to Everest base camp trek. Our company guaranteed 99.9% safe and successful journey with experience guide if you book EBC trek with us.
Facts about Mount Everest base camp trek
The height of the mt. Everest is 8.848 meters south Everest base camp is 5,364 meters, and the Tibetan North Side base camp is 5,545 meters.
The best months of the trek is April, may, late September and October.
You must be trained with 5 to 7 hours of trekking per day.
There are special tutorials for packing and sleeping techniques during the trek.
Typically it takes 12 days for Everest base camp trek.
Tips to tackle Everest trip difficulty grading
Everest base camp trek is a great achievement for all travelers but it is not a big deal. You can reach till to base camp trek Nepal surely and safely. Here are some simple tips from regular trekkers, which can be your life saver.
You will have to walk slowly that ensure your journey successful
You will have to stay positive during the journey. There will be many circumstances in front of your eyes, like injured person, rescue team searching for missing people or even you can see dead bodies.
Follow the food habit which is prescribed by your guide. Drink the right amount of water, have the right kind of food. Another altitude sickness may ruin your trip.
Taking plenty of money and food is really necessary.
Always follow the instructions of experience guide
If you are still thinking is it hard to get to Everest base camp? Yes, it is. But if you are well trained and determined to complete the trek, then you can go for it. After earthquake many people scare about Everest base camp trek and ask how safe is Everest base camp.
We advice you Everest base camp trekking route is safe to go to explore highest peak Mount Everest. But above the base camp or during Everest climbing summit route, it is not sure anything happen any time. Everest base camp tours reach till base camp only. In this way it is not necessary to worry about Everest base camp trek safety.