How to avoid altitude sickness when walking to Everest base camp
Go through some of the tips that will help you avoid high altitude sickness. Know How to avoid altitude sickness when walking to Everest base camp. There are many who love to trek. However, there are few who are terrified of high altitude sickness. This is an acute problem which haunts many people.
For mountaineers who hike mountains like Mt. Everest, this illness can become very dangerous for them. Thus, if you are one of them, then you should take some precautions beforehand by which you can avoid all sorts of sickness related to high altitude. Read this article thoroughly and try to implement each and every one of the tips.
Mount Everest base camp trekking in Nepal packages are design by the destination specialist with the support of professional adventure guide to minimize the risk of altitude sickness, safe and easy conduct. check advice how to avoid altitude sickness below.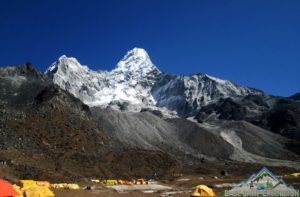 Everest base camp trek, 9 days, 10 days, 12 days, 14 days
Mount Everest view trek, 5 days, 7 days
Gokyo lakes trek
Everest Cho la pass trek
Everest base camp trek via Jiri
Luxury Everest base camp trek
Everest three pass trek
Ama Dablam base camp trek
Phaplu to Everest base camp trek
Gokyo to Renjo la pass trek
Types of high altitude sickness
(A) High altitude pulmonary edema (HAPE), this illness occurs when fluid builds up within the lungs, a condition that can make breathing extremely difficult.
(B) High altitude cerebral edema (HACE), this illness occurs when fluid builds up within the brain. That can make brain swells with fluid, the person's mental state changes.
High altitude sickness symptoms
The Symptoms of altitude sickness may be mild, severe, very severe and even life-threatening. However, in most of the cases the symptoms are mild. The mild symptoms include headache, fatigue, dizziness, difficulty to sleep, nausea, loss of appetite, rapid pulse and short breath. The symptoms of severe mountain sickness include chest tightness, cough, vomiting blood while coughing, cyanosis, pale complexion, inability to walk, Lassitude, less urine output, decreased consciousness and short breath at rest. When you have got start to surfing from these symptoms as soon as inform the trekking guide and follow his instruction.
Tips to prevent altitude sickness
Try and avoid catching a cold before you trek through the steep slopes of the mountain.
Take rest and try to get enough sleep, as much as possible but do not sleep during the day time.
Drinking lots of fluids helps the digestive system and helps a lot during sickness.
Eat food that has low calorific value and is not too rich. Meals that are high in carbohydrate is very much recommended since; you will need it once you start climbing those mountains and once you start losing energy.
Climb the slopes as slow as possible ad do not concentrate on the height factor.
Sedatives are a primary cause of high altitude sickness. Thus, if you are taking these, it would be best if you stop taking them.
How to avoid high altitude sickness
Mountain sickness can be prevented by climbing the mountain slowly, relaxing for a day or two after every 2000 ft for acclimatization, climbing higher and sleeping at a lower altitude and knowing about the early symptoms.
Those who go above 3000 m may carry sufficient oxygen with them, Ascent less than 300m a day. While climbing one should drink plenty of fluids, strictly avoid alcohol, no sleeping pills, no smoking, no sex and take regular meals high in carbohydrates. Heart and lungs patients should avoid climbing high altitudes.
You must think how to avoid high altitude sickness when walking to Everest base camp? Well, usually the mountaineers carry oxygen with them. The mountain guides and the Sherpas who will be accompanying you during the entire trek are very well accustomed to the weather condition and know what might happen to mountaineers who are less experienced.
Thus, you need not worry you are with some of the best-experienced people. During Everest base camp trekking period all trekking itineraries are design to minimize the risk of acute sickness by reputed agency. Gradual ascent and proper acclimatization is the main medication to prevent from acute mountain sickness. To avoid high altitude sickness when hiking to Everest base camp, go slowly according to the instruction of guide.
Any diseases or disorders
People who have suffered from diseases like pneumonia or tuberculosis make it a point to consult doctors before you go for treks such as these. These tips can minimize the risk of having sickness due to high altitude. Thus, you must always clear any sorts of doubts regarding your illness. You should not take any kind of risk to go to the high altitude for trekking.
Treatment, How to avoid altitude sickness
When diagnosed and treated in the early stage of high mountain sickness can be cured easily. Those who develop the symptoms should not continue the climbing. Extra oxygen may be given to the patient, if possible. Those who have severe symptoms must be admitted to hospital at the earliest. Breathing can be improved by taking acetazolamide.
Highest peak of the world the Mount Everest and the Khumbu region is incredible. Being up so high altitude Kalapatthar 5555 m, Everest base camp 5360m and seeing this natural wonder is once-in-a-lifetime experience. Here we are going to advise you to make sure you are traveling with a reputable guide who knows how to deal with altitude sickness.
Now you are clear about all tips How to avoid altitude sickness when walking to Everest base camp. If you interested to trek to Everest base camp or high altitude in Nepal write us we arrange safe journey to Himalayas with experience guide to show you the natural wonders.