How to get to Everest base camp
Are you planning to move out for trekking this time? Then come let you be explored through the amazing world of Mount Everest. Everest being world's top most mountains has certainly attracted a wide group of people as climbers every year from all around.
Like others now it's time for you to climb up. So come take some time and throw a glance over the probable circumstances and features for trekking to Everest base camp. From highly experienced to brand new mountaineers are being attracted by Everest every time.
Apart from these the finest thing to be focused on is that how can we go to Mount Everest base camp. For this, first, watch out its probable site viewing.
Given packages inform you how to get to Everest base camp south side Nepal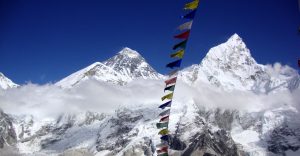 Everest base camp trek, 9 days, 10 days, 12 days, 14 days
Mount Everest view trek, 5 days, 7 days
Gokyo lakes trek
Everest Cho la pass trek
Everest base camp trek via Jiri
Luxury Everest base camp trek
Everest three pass trek
Ama Dablam base camp trek
Phaplu to Everest base camp trek
Gokyo to Renjo la pass trek
Check where is Mount Everest located in the world map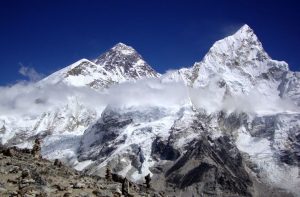 Mount Everest stands majestically at 29,029 feet above sea level and hence a trek to the Everest base camp is a feat in itself. Being classified as one of the top mountain, Mount Everest has been situated at an elevation of 8848 meters high from the sea level as per the survey.
It genuinely shares its parts with Nepal and Tibet. Basically, its location lies in Mahalangur Mountain. Some of its peaks may even include parts of Lhotse, Nuptse, and Changtse.
Apart from all such location effects surveys have even clarified that basically two different types of routes exists allowing the climbers to move ahead. These two base camps at the foot of Mount Everest. The first is the North base camp 5,150 meters /16,900 feet in Tibet and the second is the South base camp 5,364 meters / 17,598 feet in Nepal. Trekking adventure to popular South base camp of Everest starts from Lukla.
How to avoid altitude sickness when walking to Everest base camp Nepal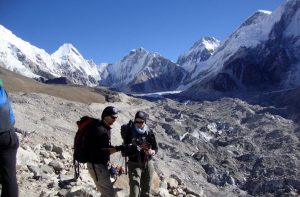 When you cross Namche bazaar or above 3500 meters there is less oxygen in the air around you. Often, it is less by 30% to 50% of the oxygen you breathe.
As such, some trekkers tend to experience altitude sickness accompanied by symptoms such as headache, slight breathlessness, sleep disturbances, loss of appetite, nausea and vomiting and dizziness and light headache.
The symptoms will subside if you rest for a while and once your body acclimatizes to the higher altitudes. The trek usually stops for two days at Namche Bazaar and Dingboche to help trekkers acclimatize. Always you have to careful, walk slowly behind the guide with lots of relax for your body. When you are traveling with guide and reputed company, then you don't have to worry.
They make you great itinerary to minimize the risk of acute sickness. Most Everest base camp trek organizers always send a medico along, but you must carry the basic first-aid for personal use.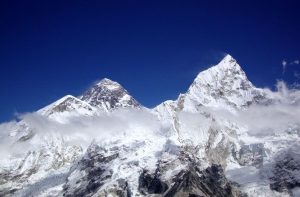 What should be followed while climbing?
Proper trekking routes play a very crucial role. Especially the rolling up routes towards the mountain along with way down routes too. You should be well aware that walking through Everest base camps would not be easier like anything. You don't have to worry it is moderate trek.
If you go slowly with the instruction of guide you reach easily.
Whether you are in a group or single, try to be aware all the times. Make your entire credentials ready at times of need.
Rest hours are probably not one for you to enjoy. Rather at such hours try to be even more aware.
Reaching the base camps might even consume half of your energy thus try to be energized while you move.
Basically, such things remain hidden for newcomers, but they should be made aware for Everest base camp. These situations are well acquainted with the experienced people so they must be aware too.
These tips help you to prepare mentally How can we go to Mount Everest .
Tips to make successful trekking to Everest base camp trip
It is important to train before you go
Prepare mentally, huge obstacles may exhaust you but certainly remain positive.
Right gear selection makes your trip success
Try to accept uncomfortable nights as your best nights.
Try to remain fit and avoidance of altitude sickness.
Never go faster rather slow down at points.
Carry plenty of snacks and other items with you.
Sometimes you may require huge amounts of money so do carry them too.
Carry winter shields with you.
Is there a need for a guide? How to get to Everest base camp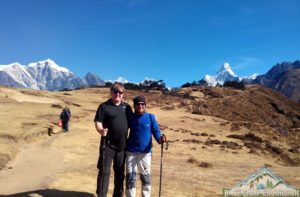 How to get to Everest base camp has been a common question arising within minds of beginners, but suitable it may not affect experienced people. The government has probably assigned guides for helping mountaineers and trekkers to climb or hiking easily.
This has been passed after certain numbers of missing cases have appeared. Everest base camp trek without a guide and porter not allowed but still people go to EBC in their own risk.
Even those areas remain complicated for new climbers to be understood the track easily. So experience guide or local porter require for better Khumbu region experience.
What are interesting things to see during trek to Everest base camp
Trekking today with a thought of how can I climb Mount Everest base camp trek has been a breathtaking experience for a number of climbers. They even experience the Sherpa cultures and various site views too. Days are quite autonomous with regular walking.
Thus in your history of base camp trekking are going to be an unforgettable one. Now you are clear about all ideas How to get to Everest base camp for varied climbers! We are here in Nepal as local adventure tour organizers to make your journey meaningful write us to get the quote.