How to hire guide in Lukla for Everest base camp trek Nepal
Hiring a guide for Everest base camp trek again is up to the discretion of the trekkers. Hiring a guide helps though, as the guide is aware of the local landscape and weather conditions. The guide can help provide valuable knowledge on local conditions and can also be of help if the trekkers fall ill or are in any discomfort. With a little bit of pre-trek training and following the advice of guides one can complete Everest base camp trek easily.
When you are going for the trekking in the Mount Everest, you may decide to hire a trek guide to Lukla. You will need to know how to hire guide in Lukla to find out the best guides for your help in the mountain. It is difficult to find the professional guide in Lukla for Everest base camp trek.
We arrange professional guide from Kathmandu and Lukla but you have to conform us before 30 days to get professional guide for EBC trek. If you searching just guide no matter experience or new then write us at least 1 week before. Our all guide and porter are insured, no need to pay flight fare from Kathmandu to Lukla, Hire a guide in lukla with us.
Basic cost to hiring Nepal trekking tour guide
Hiring professional trekking guide in Nepal from Kathmandu cost: US$ 35 per day
Hire a local experience trekking guide from Lukla cost : US$30 per day
Hire a Porter from Lukla cost: US$ 25.00 per day
You can split the Mount Everest base camp trek guide cost in between in your group of friends.
Note: Guide hiring service from Lukla is not available for Indian nationals.
If you are planning to hire a porter follow this link How to hire a porter from Lukla
Book a guide from local agency
It will be better if you can find out some agencies from where you can book your guide. It is true that it is tough to find agencies in Lukla. If you search online, you will find a few. If you book them from the company, it will be possible to get the best professional guides. However, in that case, you may need to pay a few extra pennies. Thus you can get best guide for Everest base camp trip. For the first time we started a guide and porter support service center in Lukla.
Freelance guide for Everest base camp trek
'Do I get a guide for EBC in Lukla or Katmandu?' If you go to Lukla, you will not get any guide agency over there from where you can hire a guide who has insurance. So, if anything accidental happens, the responsibility will be on you only. You will be able to get some freelance guides. They are really helpful.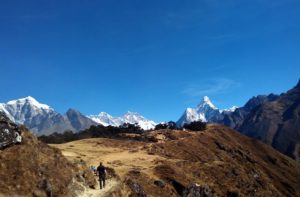 However, you may need a guide especially when you are trekking alone. He will work as your best companion on the mountains.
At the same time, they know a lot of important information about the mountain which they can share with you. If you are searching freelancer guide then write us we will send you some email address of guides. You can discuss and fix the trekking schedule and cost.
Be careful in case of emergency freelancer guide can not manage rescue helicopter like reputed agency, in this way use the guide porter service also from reputed agency in Nepal.
How the guide helps during Everest trekking period
As the guides over here are local people, they will be able to tell you about the best ways in the mountain to trek so that you may face less risk in the Himalayas. At the same time, they will also tell you about the history of the mountains which is surely going to increase your knowledge about the mountain a lot. They will be your very good companion and will help you as much as they can to complete the Everest base camp trek successfully.
How much does it cost to hiring a guide for Everest base camp trek
Our guide porter service center Lukla always open to provide you professional guide porter service. You can meet our representative in Kathmandu also. It will be easier for you for hiring a guide from Lukla. Conform the trek starting date, number of trekkers and require number of porter and guide at least 15 days before. No worry How to hire Guide in Lukla? We provide you experience guide and porter service for you after arrival in Lukla Airport write us.