How to hire porter in Lukla for Everest base camp trek in Nepal
If one is strong enough to carry their items as they trek, hiring a porter is not mandatory. However, to save the stress and also help the local economy a porter should be hired. Get to know more tips regarding how to hire Porter in Lukla for Everest region trip.
If you are trekking to the Mt. Everest base camp, then you will come across the village called Lukla, here you will be offered to choose your mountain guides and Sherpas who will be accompanying you and helping you during the entire time of your trek.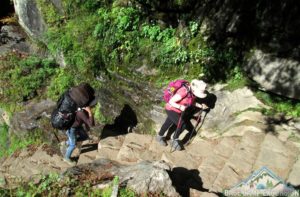 But, how to hire a porter in Lukla? This is one of the toughest decisions to make. You might get confused as to which Porter to hire and which one not to.
We are here in Lukla to provide you guide and porter hiring service. These days you don't have to worry about anything about hiring porters in Lukla. Our all guide and porter are insured, no need to pay flight fare from Kathmandu to Lukla, to make your journey safe and easy.
A Porter carry 20 to 25 kg Luggage, one porter is enough for 2 trekkers, you can share this cost with your friend. If you hire guide then only we do provide you porter service. Hiring porter only either from Kathmandu or Lukla is not possible with us.
Basic cost to hiring porters for Nepal trekking tours
Hiring trekking porters in Nepal cost: US$ 25 per day
Guide cum Porter or Porter cum guide hire from Lukla cost: US$ 30 per day
Note: We are unable to do provide the porter hiring service from Lukla for Indian tourist.
 Things to keep in mind if you hire by your own
You might question yourself "Do I get a porter for EBC in Lukla or Katmandu?" You are going to come across some trekking operators who have porters. This saves the Mountaineers extra cost for airfare. However, one of the disadvantages is that you do not get the chance of meeting your guide / porters before you hand over the hard earned cash. However, before you hire these staff, which should set some ground rules. This law should include some critical points.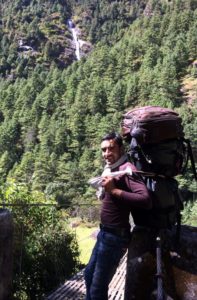 These are as follows:
Interview them properly if they speak English
This is one of the most crucial steps. You should at first get to know them very well; then you can start your Everest base camp trek with them. Talk about their ability and how well they know these slopes. By doing this, you will get to know about their character, and this will also allow you to talk more freely and communicate openly with them. Main Problem is that only few porter can speak English. if you seeking English speaking porter then you have to pay more.
Question them about Everest base camp trek
It is crucial that you ask him whether he has already done this trek before or not. Try to learn whether he knows the route correctly or not. Hiring someone who is not so experienced is not an excellent decision. Thus, think wisely and make a decision that will serve you well.
We help you to hire a porter at Lukla
Now you don't have to worry about anything where to hire a porter, who is my porter, porter behavior, porter insurance for EBC trek. First time we started a guide and porter support service center in Lukla. Write an email we will provide guide and porter support service according to your requirements throw our company.
Make a schedule and maintain it
Make sure that once you have hired a Sherpa, guide, porter, you sketch a proper plan of your trek and go according to the routine. This is a splendid way of maintaining a good trek record. Thus, get a porter in Lukla for Everest base camp trek. No worry How to hire porter in Lukla? We are here to provide you experience guide and porter service for you after arrival in Lukla Airport . If you need Porter cum guide from Lukla write us we do provide you this service too.