How to reach Sagarmatha national park Nepal
Kathmandu to Sagarmatha national park distance is 135 kilometers. If you would like to know and explore the highest national park in the world then see facts and information to reach with National park with entry fee in detail. Sagarmatha is a Nepal originated word, where sagar means the sky and matha means head which means 'the head of the sky'.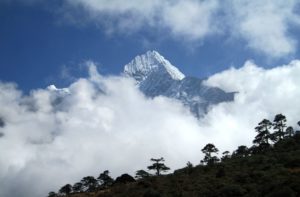 It is situated in the district of Solukhumbu in the eastern Nepal and covers an area of about 1,148 km sq. Sagarmatha national park entry permit fee is NPR 3000 + 13% Tax total about NPR 3500.
It is located about 3000 m above the sea level and it is the highest national park in the world. Though, it includes Mount Everest "highest peak of the world "and reaches to an altitude of about 8848 m. It got established in 1976 and got the title of UNESCO Natural World Heritage Site in 1979.
The Sagarmatha comprises the upper drainage basin of the River Dudh Kosi, Bhotekoshi River and Gokyo lakes. There are about 69% of barren lands, 28% of the can be used for production of food items whereas the remaining 3% of the land is forested. Many tourist visit this park to see the wonderful natural sights annually.
Tips and information about "where is Sagarmatha National Park located? and how to reach Sagarmatha from Kathmandu" with National Park travel guide including facts, location, entry fee, weather, temperature, flora and fauna as well as the packages.
Everest base camp trek, 9 days, 10 days, 12 days, 14 days
Mount Everest view trek, 5 days, 7 days
Gokyo lakes trek
Everest Cho la pass trek
Everest base camp trek via Jiri
Luxury Everest base camp trek
Everest three pass trek
Ama Dablam base camp trek
Phaplu to Everest base camp trek
Gokyo to Renjo la pass trek
Plants on Mount Everest
Verity of plans found in Mount Everest trekking region below the snow line. On the higher altitude there are only few mosses and lichens. The mid zone comprises only shrubs and small vegetation. Lower forested area comprises birch, juniper, pines, rhododendron, firs, bamboo hemlock and pine.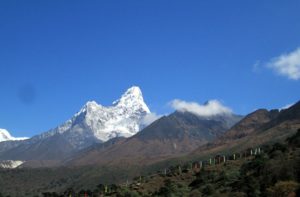 Animals on Mount Everest
The Sagarmatha National park Nepal is a home for many species of birds. The number specially stands at 118 species which includes birds like blood pheasant, Himalayan Monal, red-billed chough, impeyan pheasant and yellow-billed chough etc.
You can see a large number of mammal's including snow leopard, musk deer, red panda, Himalayan thar, mountain goats and Himalayan black bear etc. It also consists endangered species such as wild yak, musk deer, red panda, snow leopard and Himalayan black bear also.
How to get to Sagarmatha national park from Kathmandu?
There are many ways to get to the national park that are listed below, National park start from Manjo village and its buffer zone start from Chaurikharka.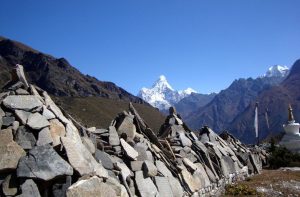 While you are walking inside national park you can discover flora, fauna and high Himalayan scenery including highest peak Mount Everest, base camp and Kalapatthar. If you interested to visit Sagarmatha national park from Kathmandu for Everest base camp trek write us, we organize according to your desire and duration of holidays.