How to travel to Everest base camp from Nepal on minimum budget
Traveler always wants to see and do many things on minimum budget. With this article we are going to make you clear about how to travel to Everest base camp from Nepal on minimum budget. There are several ways to travel to Everest base camp on minimum budget. Read thoroughly its pros and cons to select the suitable budget saving option to walk on world famous Everest base camp track in Nepal.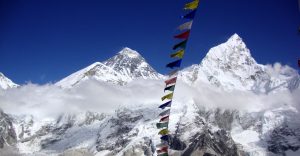 Complete reliable information can save and find out the cheapest way of realizing your dream of Everest base camp on a budget. Instead of any international agency, opt for a local trekking agency and local guide. You can get best deals during either off season or beginning and ending of peak season.
Option 1: Join a group on fixed departure schedule
Check our fixed departure schedule to join a group according to your suitability. This option helps to minimize the travel budget but not 100% sure that you will get better experience. There are 5 to 14 members in a group all of them are unknown each other before trek. Individual members of this group trek on their own space and don't care what other member doing.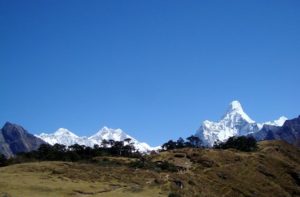 Guide instruct and try to manage the group to trek together but trekkers don't care and walk according to their own wish. Mainly weak people or those who cannot follow the group properly have really bad experience on group joining trip. It is advisable to organize private trip alone or at least 2 people. We do provide you full board package of cheap Everest base camp trek on your budget.
Option 2: Hire a Guide and Porter for Everest base camp trek

Instead of full board package you can hire a guide and porter for Everest trek to minimize the trip cost. We do provide you guide porter hiring service from Lukla. You can opt to make all the arrangement independently including lodging that will cut down the cost of your trip significantly.
Option 3: Hire a porter cum guide or just guide only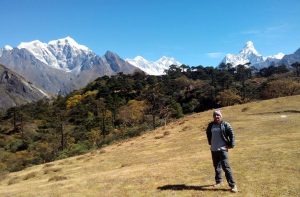 You can hire a guide cum porter instead of hiring a professional guide for Everest base camp trek from Lukla Nepal. This is a cheapest way to do Everest base camp trek because guide cum porter can carry your luggage and guide you on way to EBC. You can opt for an economic package tour or just a local guide through a native agency to ensure Mt. Everest base camp on a budget.
Option 4: Trek to Everest base camp by your own
If you are looking for another cheapest way to do Everest base camp then pack your bags, do the study, buy lonely planet guide book, route map and just get started all on your own. Independent trekking in the Himalayas is not recommended because many tourist missing each year on the way. But still many tourists visit Everest base camp alone / solo on their own risk.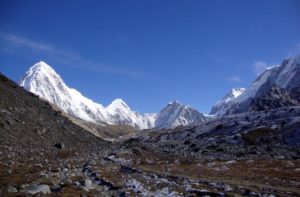 The best option: Private Everest base camp trek through local company
Among of these all option private trip to Everest base camp with the support of experience guide and porters through reputed local company is the best option. It gives you life time experience to see the Mount Everest in Himalayas safe and successfully.
Trekking season, duration, means of transportation, travel agents and the slandered of hotel determine Mount Everest base camp trek cost. A local agency pays to local staff that allows them to offering much affordable deals; on the contrary, an international agency has heavy expenditures.
These are available options of cheapest way to do Everest base camp trek in Nepal. Tips on how to travel to Everest base camp on minimum budget helpful for finalizing the best plan to visit the Himalayas to discover Mount Everest. If you are searching a local agency for travel to Everest base camp on minimum budget email us we will follow you with quote.