Top 10 Nepal travel quotes with inspirational Everest base camp quotes
Magical and picturesque travel destination Mount Everest region of Himalayas, encourage each travelers to say something about its wonders. Given list of Everest base camp quotes is the collection of unique Nepal travel quotes of the legend mountaineers, trekkers & explorers.
Starting a trip or planning or are already started and are on the way, you will find the Everest base camp quotes really inspiring. Nature-gifted geographic diversity, variance in culture, highest mountains, thundering rivers, high hills, flora, fauna and landscapes are the main tourist attractions of Nepal between nature lovers.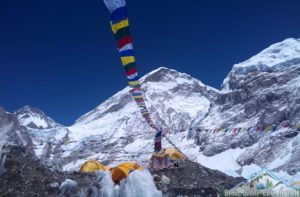 Let's start with "Naturally Nepal once is not enough" the slogan of Nepal tourism board to promote tourism in Nepal. World famous Everest base camp trek should be on the bucket list of explorers due to many reasons. When you read these inspirational quotes, cannot stop you without exploring Everest base camp in the Himalayas. Breathtaking scenery along the route spellbound you each and every steps.
Top 10 Nepal travel quotes with inspirational Everest base camp trek quotes
Great list of top 10 Nepal travel quotes with inspirational Everest base camp quotes by Hillary & Mallory and others adventure lover inspire you to explore Natural wonders.
1: "We don't live to eat and make money. We eat and make money to be able to enjoy life. That is what life means, and that is what life is for" – George Mallory
2: "It's not the mountain we conquer but ourselves" – Sir Edmund Hillary
3: "I found the people more important than the rocks" – Toni Hagen's famous quote about Nepal
4: "I felt as though I were plunging into something new and quite abnormal. I had the strangest and most vivid impressions, such as I had never before known in the mountains. There was something unnatural in the way I saw Lachenal and everything around us. I smiled to myself at the paltriness of our efforts, for I could stand apart and watch myself making these efforts. But all sense of exertion was gone, as though there were no longer any gravity. This diaphanous landscape, this quintessence of purity these were not the mountains I knew: they were the mountains of my dreams." – Maurice Herzog
5: "Look deep into nature, and then you will understand everything better" – Albert Einstein
6: "Once a year, go some place you've never been before" – Dalai Lama
7: "Not until we are lost do we begin to understand ourselves" – Henry David Thoreau
8: "Travel makes one modest; you see what a tiny place you occupy in the world" – Gustave Flaubert
9:"A journey of a thousand miles must begin with a single step" – Lao Tzu
10: "We wander for distraction, but we travel for fulfillment" – Hilaire Belloc
Inspirational Nepal travel quotes to discover the world
Read beautiful Himalayas quotes that inspire your steps to discover naturally Nepal.
#"It's better to travel well than to arrive"- Buddha
#"Heaven is a myth, Nepal is real"
#"Jobs fill your pocket, but adventures fill your soul" – Jamie Lyn Beatty
#"Remember that happiness is a way of travel not a destination" -Roy M. Goodman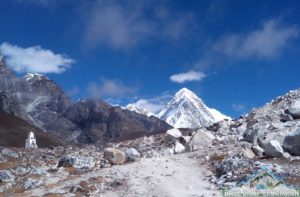 #"Take only memories leave only footprints" – Chief Seattle
#"Adventure is worthwhile" – Aesop
#"Take every chance you get in life because something only happen once" – Karen Gibbs
Nepal is a beautiful place and is abundant to charm and inspire its visitors with its natural beauty. Inspiration may be in several forms and magnitudes. This can be some of the inspirational Everest base camp trek quotes that inspire you really bigger. There is nothing that is unachievable here, but there is a need to be disciplined to reach the Everest base camp Nepal.
Nepal travel quotes allow visitors to understand better of everything by looking deep into nature. The changes in climate reveals the truth of life that nothing is steady and anything can take place anytime. It is you to accept things as it is without trying to change and to pass obstacles.
Success in life cannot be achieved without facing obstacles and the same applies here. The nature's bounty of beauty is mesmerizing, but to reach Everest base camp, you have to go through the secret destinations of your journey looking deep into the beautiful nature.
Nepal is a destination heaven-like ideal as a wonderful vacation. It has opulent temples, Chortens and monasteries adding spiritual ambiance. The natural topography, the rituals and the kaleidoscope of foliage and vegetation in association with fauna and unique flora, affirms that visiting Nepal once in lifetime is a must, but it also calls for re-visits. The reward of travel in life is you learn a lot and this helps you grow in real sense. You are welcome to discover "Mount Everest" The Himalayas, natural beauty of Nepal.