Lower Dolpo trek details to visit Dolpo trekking region Nepal
Lower dolpo trek is one of the wilderness camping trip to discover hidden treasures of Himalayas. The Lower Dolpo trekking fetches the perfect opportunity to the trekkers to explore the western region of Nepal, which stands isolated even in today's time. Difficult level of Dolpo trek categorized as strenuous trekking. Maximum height that trekkers reach during the course is 5238 meters / 17185 feet.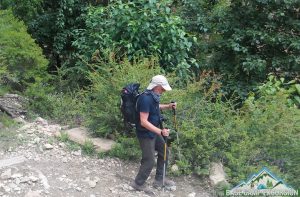 The Lower Dolpo trekking trip starts from Jhupal and eventually heading towards Tarakot to Ringmo crossing Numa La pass and Baga La pass. Dolpo trek is the perfect opportunity to explore the exceptional scenic beauty of the place and some stunning cultural and natural phenomenon, as one moves along the remote western parts of Nepal. Lower Dolpo trekking route lies in Rain-shadow area and has everything in its store to present you a fascinating and forever memorable experience.
Key attractions for the trekkers in the course of Lower Dolpo trek are many. The high passes of Numa La and Baga La, as well as the Shey Phoksundo Lake are the highlights destination, where in you will find the heavens has come down on the earth's crust. The entire walking trip moves though some exceptionally beautiful places that offers a complete tranquility, and rejuvenation of the body and the mind. At the same time you will get the chance to explore the pure Tibetan culture, lifestyle as well as come across various ancient Monasteries.
Beside that you will also get the chance to know about the Bon-Po religion that evolved during the pre-Buddhist time and is practiced even in contemporary times. You will observe the caravans of the Yaks, continuing the conventional Salt Trade with Tibet. The lower Dolpo trek is a wonderful opportunity to explore the history and heritage of Nepal.
Lower Dolpo trek itinerary
Day 01: Arrival day in Kathmandu, Nepal
Day 02: Kathmandu city tours and preparation
Day 03: Flight from Kathmandu to Nepalgunj
Day 04: Flight to Jhupal (Dolpa) 2475 meters / 8120 feet then trek to Dunai 2140 meters / 7020 feet
Day 05: Trek to Tarakot 2540 meters / 8333 feet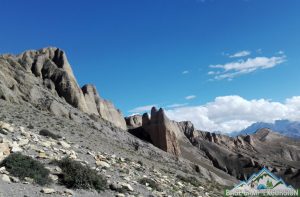 Day 06: Trek to Laina 3370 meters / 11056 feet
Day 07: Trek to Nawarpani 3780 meters / 12401 feet
Day 08: Trek to Dho tarap 3944 meters / 12939 feet
Day 09: Walking around Dho Tarap for Acclimatization
Day 10: Trek to Numa La base camp 4440 meters / 14563 feet
Day 11: Cross Numa La pass 5238 meters / 17185 feet, camp at Danigar 4512 meters /14803 feet
Day 12: Cross Baga La pass 5169 meters / 16958 feet, trek to Yak Kharka 3860 meters / 12664 feet
Day 13: Trek to Ringmo 3,641 meters / 11943 feet
Day 14: Explore around Phoksundo Lake
Day 15: Phoksundo Lake to Shyanta 2520 meters / 8265 feet
Day 16: Shyanta to Jhupal 2475 meters / 8120 feet
Day 17: Flight to Nepalgunj to Kathmandu
Day 18: Airport transfer by private vehicle to depart Nepal
Services included
# Airports pick up on your arrival day by private vehicle
# Round trip flight from Kathmandu Nepalgunj
# Round trip flight from Nepalgunj to Jhupal to Nepalgunj
# Two nights hotel accommodation in Nepalgunj BB basic
# All meals (Breakfast, Lunch & dinner) 4 cups of hot drink each day on choice
# Accommodation at organize camping tent during Dolpo trekking period
# Professional English speaking guide service trained by government of Nepal
# Trekking staffs to carry your backpack & camping equipments
# All necessary paperwork, special permits (SPNP, TIMS) and local taxes
# Travel and rescue arrangements if require
# Airport transfer to depart Nepal
Service exclude on Lower Dolpo tea house trek package
* Visa fees / international airfare to and from Kathmandu
* Lunch and dinner in Kathmandu
* Personal expenses phone calls, mineral water, bar bills, hot shower, battery recharge, extra porters & gears etc
* Tips for guides, porters (Tipping are expected but not mandatory)
Off the beaten path Lower Dolpo trek was opened for foreigners since 1982. Lower Dolpo tea house trek offers real adventure experience in the Himalayas. Basic teahouses are opening in this route up to the Phoksundo lake but organize camping trek is the perfect options to observe all highlights of lower Dolpo trek route of Karnali, Nepal. If you would like to book this package write us.