Lukla Nepal with Kathmandu to Lukla distance, weather & elevation
Kathmandu to Lukla distance is 136.17 Kilometers / 84.61 miles. Amazing trip to Everest base camp starts with the scenic flight to Lukla by twin otter or Dornier air craft. Most beautiful air routes in the world offers great Himalayan views, careful to select the windows seat when you boarding on craft. Tenzing-Hillary Airport with the airport code LUA also situated in Lukla village.
Do you know how long does it take to fly from Kathmandu to Lukla? It take 30 to 35 minute depends on the type of aircraft Dornier reach quite faster than twin otter.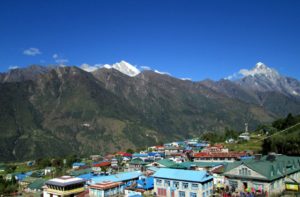 Lukla is a small village of Nepal lies in the Khumbu area in Sagarmatha zone. Many people visit Lukla because it is the gateway of all trekking route in Everest region.
How long is the runway at Lukla airport?
The runway of Lukla airport length is 527 meters / 1,729 feet and 30 meters / 98 feet width.
How high is Lukla Nepal?
Tenzing – Hillary Airport Lukla Nepal situated an elevation 2,845 meters / 9,334 feet above sea level.
Lukla village situated at 2,860 meters / 9,383 feet above sea level. There are many lodges in Lukla Nepal where travelers have breakfast and lung before start Everest base camp trek and spend one or more day after Everest trip. Trekking in the Mount Everest provides an exciting experience; proceed gradually to avoid altitude sickness. There are to alternative trip also available if you not interested to fly to Lukla from Kathmandu.
Phaplu, Salleri to Everest base camp trek and Jiri to Everest base camp trek are these options. If you have short holiday duration then 12 days Lukla to Everest base camp trip is the best option. Unpredictable weather of mountain area like high winds, cloud cover and changing visibility will delay many flights. We request you to manage travel schedule with few extra days. Base Camp Excursion will charter a helicopter also in case you have problem to catch your schedule international flight but you have to pay extra.
Everest base camp trek and other trekking in Mount Everest area starts after landing at Lukla known as a world's most dangerous airport. No worry it is safe to travel from Kathmandu to Lukla, check popular Everest trip start and end at Lukla Nepal below.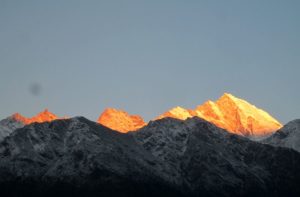 Everest base camp trek, 9 days, 10 days, 12 days, 14 days
Mount Everest view trek, 5 days, 7 days
Gokyo lakes trek
Everest Cho la pass trek
Everest base camp trek via Jiri
Luxury Everest base camp trek
Everest three pass trek
Ama Dablam base camp trek
Phaplu to Everest base camp trek
Gokyo to Renjo la pass trek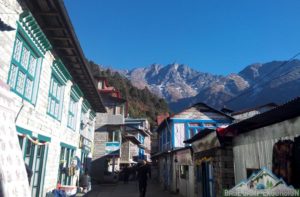 There are variety of shops and tea houses catering to tourists and trekkers, providing western-style meals and trail supplies. Lukla Nepal is an important starting point for trekking to Mount Everest. Kathmandu to Lukla flights available all the days of the week to reach Lukla and from Kathmandu.
The flying experience from Kathmandu to Lukla is indeed very amazing and it provides an experience of mini adventure. We are tour operator Nepal provides you Kathmandu to Lukla flight booking service as well as the Mount Everest region trekking tours packages on competitive price. If you interested to visit Khumbu Nepal the himalayas write us for any further information.
Nepal Lukla Photo gallery
Check Featured Images of Lukla Nepal. Wow Lukla airport, village, landing, takeoff photos of Lukla Nepal the gate way to Mount Everest.