Main gateways to Everest base camp trek access by drive & flight
Accesses for Everest base camp trek to see the highest peak of the world are many. Lukla to Everest base camp trek is the most popular option. Sherpa people are the main inhabitants of Khumbu area. It is common for trekkers to fly from Kathmandu to reach Lukla town and then trek to EBC. Grand views of Everest, Lhotse, Pumori, Nuptse, Thamserku, Kangdega peaks, Mt Everest base camp & Kalapatthar are highlighted features of all options.
Trekkers can view variety of wildlife including snow-leopard, wild goat, Himalayan cock, impeyan pheasant, bear and musk deer also. Trekkers can start Everest base camp walking journey from any places suggested available options below. It is strongly advisable to hire at least a guide to make safe & meaningful trip.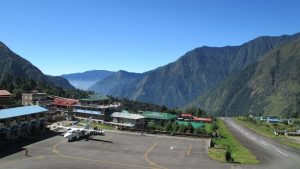 Main gateways to Everest base camp trek access by drive & flight
1: Flight to Lukla, trek to Everest base camp south 12 to 14 days
2: Flight to Phaplu, trekking to Everest base camp in Himalayas
3: Kathmandu to Salleri by drive then hike to Everest base camp
4: Drive from Kathmandu to jiri or Bhandar then trekking to Everest base camp
5: Drive from Kathmandu to Singati bazaar then trek to Mount Everest via Tashi lapcha pass
6: Flight Kathmandu to Tumlingtar then trek to Mt Everest area
7: Direct helicopter flight to Everest base camp Nepal
These are the ways and places to start EBC trekking in Nepal. No matter from where you start but trek end at Lukla then flight back to Kathmandu. Lower section of all option pass throw the traditional village and green forest. Upper section of Everest base camp trek pass reaches barren rocky wilderness and glacier area. Major numbers of visitors to Everest base camp trek Nepal back home with keeping unforgettable memories on mind.
Popularity of Mount Everest base camp trek access increasing as craze since 1953 the first successful summit was made by Hillary and Tenzing. Hike in the footsteps of legends to the Himalayas with the support of friendly Sherpa guide and porters to catch the fabulous outlook of highest mountain in the world. If you are adventure lover come to touch the base camp of "Mount Everest" email us. We are destination expert local agents happy to organize trip with the support of cheerful guide with smile.