Medications & vaccinations are needed for Everest base camp trek
It is advisable to visit your personal doctor for medical checkup before start Mt Everest trip. Doctor confirms that previous ailments won't create any hassle for the trekking in Nepal the Himalayas. He or she will provide you authentic information about Medications & vaccinations are needed for Everest base camp trek too. Daily exercise & mental preparation needed to ensure that you are physically fit to carry out the task successfully.
Medications are needed for Everest base camp trek for those who have serious health issues such as diabetes, asthma, kidney ailment, cardiac problem, hypoglycemia, high or low B.P., cancer, hernia etc. It is advised to take permission from the doctor to join Everest trek. Lets check what you needs to bring for Everest base camp trek for medications & vaccinations.
Vaccinations needed for Everest base camp trek
The vaccinations needed for Everest base camp trek include Typhoid, Yellow fever, measles, Hepatitis A & B, diphtheria, Japanese encephalitis and rabies. The trekkers are advised to take prescription medicines before, during and after the trek in order to prevent malaria.
Stamina need to tackle on high altitude mainly Dingboche, Lobuche, Gorakshep to kalapatthar and Mount Everest base camp. It is hardest part of whole trip and you lose the weight also while hiking to Everest base camp. Stay at reputed hotel near Everest to get the quality food.
Everest base camp trek, 9 days, 10 days, 12 days, 14 days
Mount Everest view trek, 5 days, 7 days
Gokyo lakes trek
Everest Cho la pass trek
Everest base camp trek via Jiri
Luxury Everest base camp trek
Everest three pass trek
Ama Dablam base camp trek
Phaplu to Everest base camp trek
Gokyo to Renjo la pass trek
Some of the reputed local and international companies advertise that they will provide medical support and other medical related service also but do not believe that. This is just an attraction to show to make travelers fool to take an advantage of more booking. The reality is different you are trekking in remote high Himalayan area with local guide they know normal first aid treatment support only. Beside that he / she can call the company for emergency helicopter rescue service.
There are not any best hospitals to address your serious issues. You can find some medication centers or pharmacy but charge you 300 times more than usual. No doctors on way and not advisable to take a medicine with others recommendation in serious illness. Consult personal doctor & carry sufficient medicine during Mount Everest base camp trek Nepal.
Medications needed for Everest base camp trek
Apart from the regular prescription medicines for already existing ailments, other medications needed for Everest base camp trek include Diamox, antibiotic cream, bandages, sunscreen, insect repellent with DEET, pain reliever, antacid for heartburn, Ibuprofen, analgesic such as Tylenol, antibiotic, Afrin and asthma inhaler. Must consume plenty of fluids, safe drinking water to keep your body hydrate and may strictly avoid alcohol, sex & cigarette.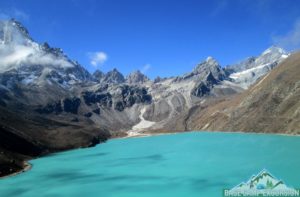 You should take all possible preventive measures to avoid the risk of infection. eat those food items which properly cooked. By way of eating such unhygienic food they may get infected with typhoid and Hepatitis A.
Carry sufficient medicine according to the physical examination and prescription. It will enable you to detect and correct the problems, if any. Separate screening may be carried out for anemia, ulcer, cardio vascular problems, asthma, diabetes and hypertension.
These are the recommended preventive measures for trekkers about medications & vaccinations recommended for Everest base camp trek. If you interested to visit Mount Everest base camp Nepal by trekking write us your health situations. We organize and manage travel schedule according to your fitness with the support of experience guide to give you memorable insight.