Most popular top 10 Everest base camp hiking tours Nepal
Destination expert pleased to introduce the top 10 Everest base camp hiking tours Nepal. This list helps all travelers to select a unique trip by nature and feature of trail according to the subject of interest. If you would love to see an amazing nature & culture go to the Himalayas. Himalayan foot hills are the best places to familiar with verity of flora and fauna.
Mount Everest has been a great object of interest among the mountaineers worldwide since ages. Hence, plenty of trekkers arrive in Nepal every year to fulfill their passion for mountain climbing. Mount Everest base camp trek Nepal is only trip to find the peace exploring a paradise on Earth. To make all travelers easy we are sharing top 10 Everest base camp hiking tours Nepal as follow.
Top 10 Mount Everest base camp tours and travels in Nepal
01: Lukla to Everest base camp trek
Everest base camp exploration trip is the famous trek all over the world. Many trekkers walk through Sherpa land following the Tenzing & Hillary's footsteps. Tourist take part in local festival like Mani rimdu, familiar with culture, Discover the most waited Nature, as this trek highlights. It takes 12/15 days to conclude this trekking in Nepal.
02: Jiri to Everest base camp trek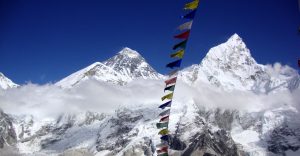 EBC trek via Jiri is a classic route to reach the base camp of Mount Everest. It is also one of the top 10 Everest base camp hiking tours in Nepal. It begins from hilly region and reach the high altitude 5360 meters & 5555 meters EBC and Kalapatthar respectively. It takes 19 to 21 days to complete this journey as per your fitness level. Jiri to Everest base camp trek is the most adventurous one for the passionate hikers.
03: Salleri to Everest base camp trek
Kathmandu to Salleri drive by jeep or bus then trek heading towards Everest base camp south in Nepal. Total duration for this trip takes 17 to 19 days from Kathmandu to Kathmandu. It is drive in and fly out trip suitable for professional hikers and physically strong persons. From Salleri trail pass through Taksindu, Nunthala, Kharikhola, Paiya and meet regular Lukla to Everest base camp route at Chheplung village.
04: Phaplu to Everest base camp trek
It is a packaged trekking tour of 18 days that starts from Kathmandu with flight to Phaplu. It is counted among the top 10 Everest base camp hiking tours of the Himalayas, because of its amazing scenery. It is suitable trip for small group of trekkers. Trekking route pass through, Taksindu la, Nunthala, Juving, Surke to Namche bazaar. Experience guide support from the beginning to the end of trip very carefully to make your journey meaningful. You can enjoy picturesque view around you always for sure.
05: Everest base camp and gokyo lake trek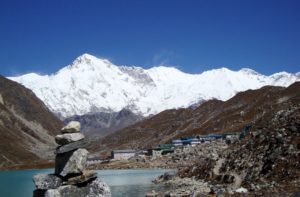 Mount Everest base camp trek via Gokyo lakes route is not highly recommended for first time trekkers. Beginners also can go through Everest base camp first then to Gokyo valley, this route is quite easier then another direction. It is very popular trek in Everest region because it covers major things to do in Khumbu area at once. The expert guides lead the tourists from Kathmandu through Lukla, Phakding, Namche Bazaar, Tengboche, Dingboche, Lobuche, Khumbu glacier and Gorak Shep to Everest base camp with Kala Patthar, walking for 4 to 7 hours every day for 15 to 17 days. It is quite long journey but really very nice.
06: Everest base camp trek helicopter return
This 9 days trekking tour package covers Kathmandu to Everest base camp trek on regular route via Lukla. After travel around Everest base camp and Kalapatthar helicopter pick you up from Gorakshep for Kathmandu. It is really unique experience in short time frame, when you fly back to Kathmandu you can see the grand view of Himalayan peaks from the chopper.
07: Everest base camp horse riding trek
As soon as landing at Lukla airport, guide arrange pre conformed horse for your horse riding trip to Everest base camp. Anyone those can stay at horseback able to reach the base camp of Mount Everest with this trip. This trekking package is only for 12 days, where the trekkers are guided from Kathmandu.
08: Everest base camp yoga trek
Many travelers go for trekking to maintain for fitness, if you add yoga on it then it becomes a superior journey for fitmess. We organize Everest base camp yoga trek with the support of international yoga instructor from Nepal. It is considered to be one of the best Everest base camp hiking tours Nepal. Each morning Yoga classes arranged for the trekkers at beautiful places near hotels. Everyday yoga class from Phakding to Tengboche while going up and Namche and Lukla when you back from trek.
09: Everest base cam trek with 3 passes of Khumbu
There are three high passes in Everest region popular between trekkers are Kongma la, Cho la and Renjo la. These three passes connect the upper section of whole Khumbu valley. Three pass trek is only journey in Everest trekking region that is enough to explore all corners of this area. This trip also listed in top ten Everest base camp hiking tours in Nepal.
10: Everest base camp trek via Ama dablam base camp
Mount Ama dablam is the most beautiful mountain of Everest region. its base camp definitely delightful. It is still in behind because of the World famous Everest base camp walking trail. To promote the hidden gems we are organize Everest base camp trek with Amadablam base camp. it require only one extra days in regular EBC trekking itinerary.
Given list of top 10 Everest base camp hiking tours Nepal lend a hand to show the world's most waited expensive scenery of the Himalayas. We are happy to organize your Everest base camp hiking trip with the support of experience guide and staff to make it more enjoyable. Select one from the list of ten Everest base camp hiking tours Nepal. Do not hesitate to email us to get the quote on any of prefer package to discover the Mount Everest. Accommodations, timely meals, Lukla flight, guide, porter, permit and required transports included in all our package. It's our pleasure to make you happy.