Mount Everest base camp tour package Nepal trip
Plan a trip to Mount Everest base camp tour, trek in Nepal to discover the highest peak of the world. Mount Everest region is one of the famous destinations for tourists. The beauty of snow covered peaks, rivers and green hills that have fascinated tourists in Khumbu area the Himalayas. Predicting the weather in the mountainous region is tough.
So from the months of March, April, May and September, October and November are the best time periods for visiting Everest base camp Nepal. Everest base camp Nepal is surrounded entirely by mountain and glaciers. You cannot see the view of Mount Everest from base camp. To see the best Mount Everest trekkers hiking to notable landmark Kala Patthar hill.
Affordable Nepal trip with Khumbu region specialist & select the package according to you holiday duration to experience Everest trips to Nepal.
Everest base camp trek, 9 days, 10 days, 12 days, 14 days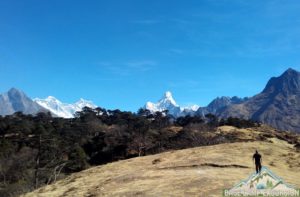 Mount Everest view trek, 5 days, 7 days
Gokyo lakes trek
Everest Cho la pass trek
Everest base camp trek via Jiri
Luxury Everest base camp trek
Everest three pass trek
Ama Dablam base camp trek
Phaplu to Everest base camp trek
Gokyo to Renjo la pass trek
Mount Everest situated relatively at the height of 8848 m above sea level. Everest base camp Nepal being situated high at an altitude of 17,598 ft above sea level. When you see the elevation you feel it is very difficult to reach but Everest base camp trek is moderate level trek. If you go with guide and proper acclimatization, it is easy to stand at the base camp of highest peak. If you are planning for a trek this season, then Everest base camp tour is waiting for you.
Everest region is protected by the Sagarmatha National Park, established in 1976 with an area of 1148 Sq Km. There are three different trekking starting point to go to Everest base camp like classic Jiri to Everest base camp, (drive in fly out) Salleri to Everest base camp (drive in drive out) and Lukla to Everest base camp (fly in fly out) tours.
Among of these Lukla to Everest base camp is most popular. These days' Phaplu or Salleri to Everest base camp is going popular between who are not interested to landing in Lukla airport. Salleri accessible by jeep road takes 4 more days to complete Everest base camp tours.
Moving on high mountains is not easy but stunning nature, Sherpa culture; favorable weather and scenario will make you experience breathtaking relief. Short Mount Everest base camp trek is moderate; it is important to prepare physically and mentally to face situations too. Highlighted feature of Everest base camp tour, trek route are highest peak, Sherpa villages, Buddhist monasteries, Kalapatthar, Khumbu Glacier, Everest base camp and many snow-capped mountains.
We arrange permit and TIMS, guide and porter, full board and service package for budget, stander and luxurious Everest base camp tours in Khumbu Nepal. We are dedicated to make your travel, with us, one of the most rewarding and memorable moments of life. So, please contact us for booking and any information on Everest base camp trek tours.