Mt Everest base camp trek minimum age & health concerns
There is no official Everest base camp trek age limit but advisable Everest base camp trek minimum age is 10 years old. Mount Everest base camp trek age limit is for health concerns of trekkers to stay safe in high altitude as well as get pleasure from adventure. Small kids cannot feel and enjoy the nature in this way there are not any advantage to take them to Everest base camp trek in the Himalayas. If they cannot adept the altitude, it becomes terrible memory for them to walk in chilly cold high elevation.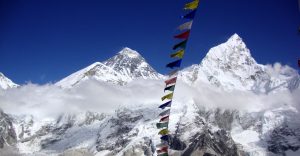 EBC trek is one in the middle of most popular adventurous treks in Himalaya region to scale an altitude of 5360m. Spectacular mountain scenery, enchanting rhododendron and pine forests and the hospitality of local villagers are the highlights of this walk. One can undertake the EBC trekking in Nepal if he / she is healthy and physically fit with minimum 10 years and maximum 70 years of age.
Physical fitness is most important for EBC trekking Nepal
Higher altitudes may affect the health of younger children it will be too harder as well as risky. Novice will find it too difficult to do when children start to feel symptoms of high altitude sickness it will be dangerous. In general, physical fitness is the most important consideration for Everest base camp trek start exercising sufficiently in advance.
Everest base camp trek, 9 days, 10 days, 12 days, 14 days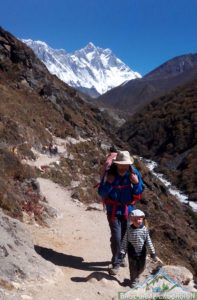 Mount Everest view trek, 5 days, 7 days
Gokyo lakes trek
Everest Cho la pass trek
Everest base camp trek via Jiri
Luxury Everest base camp trek
Everest three pass trek
Ama Dablam base camp trek
Phaplu to Everest base camp trek
Gokyo to Renjo la pass trek
Mount Everest base camp trek health concerns
The trekkers must be aware of the Everest base camp health concerns. Staying hydrated and taking slow steps are very effective methods to prevent acute mountain sickness. High altitude sickness is a serious issue and one should not take it lightly. In case giddiness, palpitation or severe headache, the trekker should retreat to lower levels to avoid more complications.
Advise to proceed on your own pace and should not get intimidated by other trekkers who may be moving faster. Self-confidence and mental stability are very important for successful execution of Everest base camp trek. Let's check, is there any age limit for an Everest base camp trek in Nepal? It helps you to know Everest base camp is an adventure at any age or not.
Mount Everest base camp trek with toddlers is not suggested still few trekkers come to visit with kids in Gokyo and EBC area. If you would like to visit Mount Everest base camp and Kalapatthar with above 10 years exhilarate children or seniors below 75 get in touch with us to organize the trip.