Namche bazaar to Thame village Khumbu valley trek in Nepal
Namche bazaar to Thame distance is 8.5 Kilometers. Thame village situated in Everest trekking region at Khumbu on the way to old trade route to Tibet via Nangpa la pass. Mountain views, waterfalls, picturesque villages along the way make Namche bazaar to Thame village.
The Khumbu valley trek enjoyable. Most of the trekking trails to Thame easy-going and fairly flat, short uphill walk close to Thame village. Sunder peak (5 368 m) above the Thame and spectacular sunrise view above Mount Thamserku are really impressive.
Tourist attractions of Khumbu valley trek are Sherpa culture and high mountain exploration including tallest Mountain of the world. If you would like to identify where is Khumbu? Its people and lifestyle move toward Khumbu valley Nepal to discover Khumbu valley facts. Suggested packages & top things to do in Khumbu given below.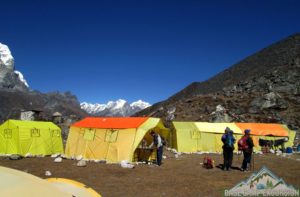 Everest base camp trek, 9 days, 10 days, 12 days, 14 days
Mount Everest view trek, 5 days, 7 days
Gokyo lakes trek
Everest Cho la pass trek
Everest base camp trek via Jiri
Luxury Everest base camp trek
Everest three pass trek
Ama Dablam base camp trek
Phaplu to Everest base camp trek
Gokyo to Renjo la pass trek
Namche bazaar to Thame village trek takes 4 to 5 hours; it is the regular walking route of Renjo la pass trek, Everest view yeti trail, Everest three pass trek,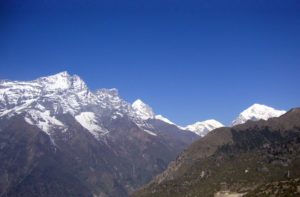 Tashi lapcha pass trek. Beside that those trekkers who have extra days in Namche Bazaar can go to explore the Thame village and ancient monastery, Chortens and Mani walls.
Thame is the home village of many famous and world record holders Sherpa mountaineers including Apa Sherpa. After crossing Thamo, Gumba and Samde village finally you reach the Thame village Khumbu Nepal.
The elevation of Thame village is 3788 meters / 12431 feet above sea level. Thame is a traditional village which has escaped from the crowds of trekking to Everest. There is an older monastery in the region of Everest "Dechen Chokhorling Monastery Thame".
The walk is quite peaceful and it contains some of the best excellent views of mountains. You can trek through the fields and pass the ancient Sherpa villages and forests. Trekking guide will brief about Sherpa homeland and show the way of life.
The Namche to Thame trip along the Khumbu valley is a great experience for all trekkers travel Nepal from around the world. If you interested to go for Khumbu alley trek to explore Namche bazaar to Thame village in the Himalayas  fell free to write us. We will be pleasured to assist you on the matter.