Nepal Sherpa guide to visit Everest base camp & Himalayan base camp trek
Nepal Sherpa trekking guides play the great role to make your journey to Everest base camp throw Himalayan glacier make easy and memorable. Sherpa guides in Nepal will guide you in the right paths which will conserve your energy and time. Local guide know all detail about Everest trekking region Nepal.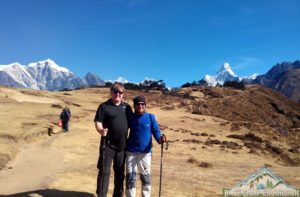 They show and explain you about local sites very well then others.
It is better to trek with professional Everest guide to know the exact information about Khumbu region.
Many single foreign trekkers during trekking in the Himalayas died and missing on the trail.
To control the single trekkers, Nepal government made the rule to hire a guide a compulsory requirement. It is highly recommended that you have to trek with Nepal Sherpa guide to visit Everest base camp Nepal. When looking to hire Sherpa guides, or porter it is essential to hire them through the reputed adventure companies and ensure that they are well insured and equipped.
Mount Everest tour guides / porters hiring in Lukla for EBC trek
Hiring a guide for Everest base camp trek from Kathmandu cost: US$ 35 per day
Experience guide for EBC trek from Lukla cost: US$30 per day
Hire porter for Mount Everest base camp trek at Lukla cost: US$ 25 per day
You can share Everest base camp trek guide cost among the group of friends traveling together to EBC Nepal. Hire local porter & guide for Everest base camp trek with us to make your journey safe and joyful.
Note: Sherpa porter & guide hire service from Lukla for Everest region trek to Indian nationals is not available.
Nepal Sherpa guides are one of the best guides in the world trek with them when visiting the Everest base camp. You feel the love and care taking which you never aspect from others and elsewhere. We are Everest trekking tours specialist mountain company Nepal.
If you interested trek with Nepal Sherpa guide to visit Everest base camp write us. We arrange long experience Sherpa guide in Nepal for Everest base camp trek as per your desire and duration of holidays.