Old and new Mount Everest base camp trek south Nepal side
Old and new Mount Everest base camp trek south Nepal side detail about old versus new Everest base camp Nepal information. Everest has two base camps at two opposite directions: north and south. The north base camp is related to Tibet while the south one relates to Nepal.
It can clearly be found on the map of Himalayan map house that there are further two base camps in Nepal. Mount Everest old base camp situated close to the Gorakshep and below the Nuptse Icefall, it is not in use because of the safety. Everest base camp has moved up to a new location several years ago.
Now days trekkers reach till new Everest base camp, climbers spend few nights for preparation after and before start Everest summit attempt.
List of Guided Everest base camp trekking pa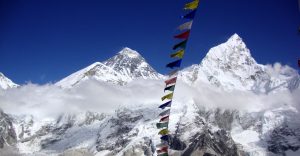 ckages Nepal to visit old and new Everest base camp south in the Himalayas.

Everest base camp trek, 9 days, 10 days, 12 days, 14 days
Mount Everest view trek, 5 days, 7 days
Gokyo lakes trek
Everest Cho la pass trek
Everest base camp trek via Jiri
Luxury Everest base camp trek
Everest three pass trek
Ama Dablam base camp trek
Phaplu to Everest base camp trek
Gokyo to Renjo la pass trek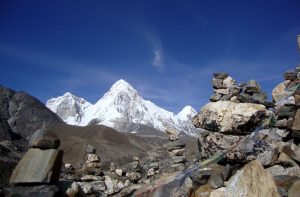 New Everest base camp also is not in permanent location it moves every year according to the movement of the glacier but same general area. Trekkers reach the 5364 meters above sea level "The Everest base camp" in the middle of Khumbu glacier.
There is Buddhist prayer flags, rocks painted with the height of EBC and many small rocks where travelers printed their name by themselves after achieve the goal.
Tent of expedition team can be seen from this location clearly but if you would like to go till tented Everest expedition base camp it takes another 30 to 45 minute from regular base camp for trekkers.
1: Old Everest base camp
This old base camp is situated at the foot of the Nuptse Ice-fall. It was used during expedition of Everest which was long ago. Person needs to travel on the opposite side of the glacier of Khumbu for the camp. But it is not used anymore and merges with the route through climbing to new base camp which is somewhere at the foot of Lho La.
The place was not stable and when they started maximizing commercial expedition, the search for stable place started. And the result of this search is new base camp. The old and new Mount Everest base camp trek is still anonymous to many.
There is no way to go to old Everest base camp these days. if you really wants to go then you need special climbing equipment's, rope and climbing guide we are here to organize this trip with smile.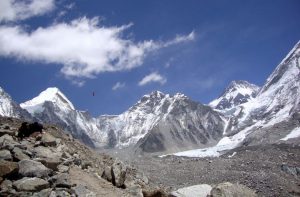 2: New Everest base camp
As it has been mentioned above that the new base camp is the result got while searching more stable place. The new base camp is much stable and has number of flags.
At the time of expedition, there are many tents for climbers and as support base camp. You will enjoy being there! The old and new Everest base camp trek is very different in stability.
An advanced base camp is established at the height of 6,400m which has full-time cooks and crews of kitchen. It has all the stock and supplies to other higher camps for expedition. The camp is not luxurious but it has solar lit with a dining table and stools. A small tent is also there as a toilet tent.
During expedition period climbers manage wifi service also from satellite connection. In comparison with, old versus new Everest base camp Nepal you can conclude that new one is better.
Many trekkers found that guides have no idea about the presence of multiple base camps in Nepal. A single stream can be found between the area of base camp and Gorakshep. Therefore, the concern person who guides would provide everyone maps as per the availability, as per instruction given in the map there isn't multiple camps or trails.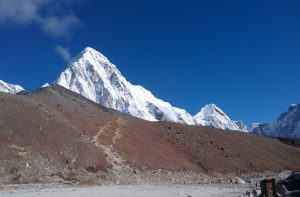 If research is carried out, then trekkers would know about the existence of twin base camps in Nepal. Before trekking, there must be all types of equipment with the concerned person and all the equipment must be in full working condition.
I think you are clear about Old and new Mount Everest base camp trek now. It is our main concern to show you all interesting things of Khumbu region because we are Everest trekking region specialist. Write us your requirement and opinions we are happy to organize luxury to budget Everest base camp trek according to your preference.