Phakding village with Lukla to Phakding trek distance, weather & elevation
After landing at Lukla village trekkers meet trekking members like guide and porters. Support staffs start to pack travelers luggage to carry up to EBC easily. You can have short break for breakfast, lunch or a cup of tea or coffee at Lukla before heading to Phakding. Lukla to Phakding trekking is first day walk go to the Everest base camp. Lukla to Phakding trek start with gradual descent till Phakding via Chheplung and Ghat villages.
Mani stone wall carved with prayers appear more beautiful. Trekkers can see the amazing view of Kongde peak from Lukla and mount Kusum Kanguru peak from Thado Koshi gaon. The absolute happiness to this place is the nature, feeling of being surrounded by mountains and the Sherpa people.
Lukla to Phakding distance is the beginning part of all Mount Everest region trekking in Himalayas including Everest base camp trek. Our experience guide takes you near the Mount Everest, Kalapatthar & EBC by the side of attractive Sherpa villages safely.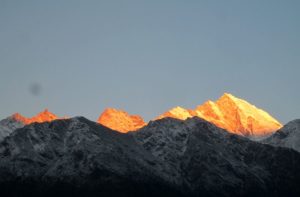 Everest base camp trek, 9 days, 10 days, 12 days, 14 days
Mount Everest view trek, 5 days, 7 days
Gokyo lakes trek
Everest Cho la pass trek
Everest base camp trek via Jiri
Luxury Everest base camp trek
Everest three pass trek
Ama Dablam base camp trek
Phaplu to Everest base camp trek
Gokyo to Renjo la pass trek
Lukla to Phakding trek distance 6.2 kilometers, weather and elevation 2610 meters above sea level. Phakding situated in lower elevation then Lukla it is good for acclimatization and minimize the risk of altitude sickness. It is about 3 hours walking distance but some travelers take longer to reach.
It depends on the trekkers walking speed and fitness level. Walking trail is easy slightly downhill then all the way flat along the Dudhkoshi River. You have the option of visiting a small monastery there and enjoy some glimpses of the Nepalese Sherpa culture.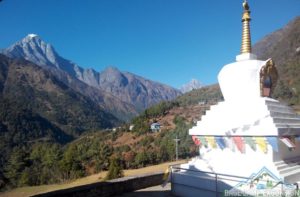 The Lukla to Phakding trek has a number of suspension bridges, so if you fear heights, you must return back or win over your fear because there is no other way. The people of Phakding are very helpful. Stay at Phakding village the weather and the surroundings will make you feel brave and quite ready for the trek.
The tourism industry and the trekkers to Mount Everest are the sources of income for the residences. Lukla to Phakding is the first step to your trek, and you will easily find the difference between the plains and mountains. There will be many things to surprise you and make you feel close to nature, on your way to the highest mountain peak.
We are local trekking agents Nepal provide experience guide and support staff to make your journey to Everest base camp memorable forever. Now you are clear about Lukla to Phakding trek distance, weather and elevation. Enjoy your first day hiking experience Lukla to Phakding. We will arrange very good lodge to rest at night in Phakding village Nepal.