Phortse village Nepal with Namche to Phortse distance, weather, elevation
The Phortse Nepal is a beautiful farming village located at 3,950 meters / 12959 feet above sea level in Khumbu valley Nepal. Phortse village is a very quiet village nestled in the foothills of these mountains in Mount Everest region. Namche to Phortse distance is 5.7 kilometers.
Namche to Phortse trek passes throw Mong la then trek downhill to Phortse tenga. After crossing Dudh koshi River step uphill walk to reach the Phortse village. Trekkers who want to go to Gokyo lakes they stop at Phortse Thenga. Those who want to explore Sherpa village they goes to Phortse village.
Phortse village is part of alternative path to Everest base camp trek in Khumbu. List of Everest discovery tours & trekking packages are from Namche bazaar to Phortse village Nepal, Gokyo valley and Everest base camp. Itinerary of this trip has been carefully designed to allow for gradual ascend and proper acclimatization by our climbing expert.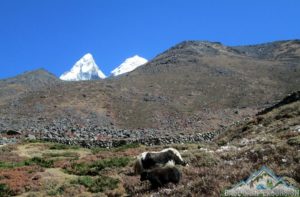 Everest base camp trek, 9 days, 10 days, 12 days, 14 days
Mount Everest view trek, 5 days, 7 days
Gokyo lakes trek
Everest Cho la pass trek
Everest base camp trek via Jiri
Luxury Everest base camp trek
Everest three pass trek
Ama Dablam base camp trek
Phaplu to Everest base camp trek
Gokyo to Renjo la pass trek
Trekking in the Himalayas provides a life changing experience. Namche to Phortse tenga trek distance is about 5 to 6 hours. Phortse tenga to Phortse gaon is about 2 hrs walking distance it is the best place to know the real image of Sherpa culture. It is a remote destination, and many changes have been brought in this village. It is possible to make travel schedule short and long according to your demand. Trip can be arranged any time in season as per your requirement.
It will never be overwhelmed by trekkers as it is a location which is slightly off the trail to the Everest base camp or to Gokyo trekking.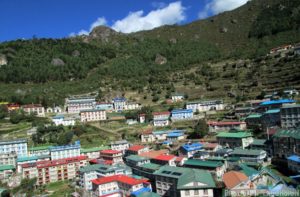 The trail from Namche bazaar to Phortse is not a tough one, regular flows of care takers pursue this route. The climate and landscape of the Sherpa village is changed dramatically during the monsoon period.
There is greenery all around the village. The best season to explore the Phortse village is autumn and spring season. Local people of Phortse are employed mainly as guides, farmin and animal husbandery.
Enjoy the natural surroundings of the Phortse village and its rich Sherpa culture with local travel agents Nepal. We organize Everest base camp trek, Renjo la pass trek, Gokyo lake trek and Cho la pass trek according to guest desire. If you want any changes to it and in case of any doubt on the matter, please feel free to contact us. We are here always open and ready to assist you.
Detail of 13 days Mt Everest base camp trek with Phortse Nepal