Special discount to renting gear for Everest base camp trekking Kathmandu
Do you know, what are the options available to renting trekking gears for Mount Everest trips? go throw the article. Trekking gears are the main support equipment's that help to make Everest base camp trek easy and comfortable. When you are traveling to Everest base camp in low budget then it is good to rent the hiking gears instead of buying new one.
There are many trekking shops in Kathmandu offers trekking gears hiring services. Being the destination specialist we also advice and provide renting gear for Everest base camp trekking in Kathmandu service as per your requirements. Almost all important items of the trekking gear are found in Kathmandu and you will be able to rent this items which will make your travel more comfortable.
We suggest all for buying and renting gear for Everest base camp trek in Kathmandu because Hiring trekking equipment in Lukla is not possible. Check Everest base camp trek gear list & consult our kit rentals depart in advance to get best equipments as per your requirements in good price.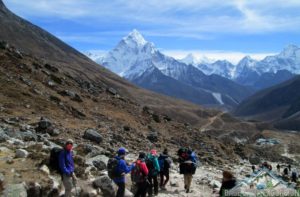 Everest base camp trek, 9 days, 10 days, 12 days, 14 days
Mount Everest view trek, 5 days, 7 days
Gokyo lakes trek
Everest Cho la pass trek
Everest base camp trek via Jiri
Luxury Everest base camp trek
Everest three pass trek
Ama Dablam base camp trek
Phaplu to Everest base camp trek
Gokyo to Renjo la pass trek
Major tips to renting gear for Everest base camp trek are select original gear, clean gears, try the size of sleeping bags before renting. There are original international brand and local copy of different brands also available in Kathmandu. Hiring original international brand like north face, mountain hardware, marmot etc are very expensive and it is quite difficult to find in outdoor gear shops.
Chinese copy of international brand are easy and cheap to hire. These types of clothes are also fine for trek. Most of the budget travelers use the fake version of original brands. Cross check on the quality of the product and if it doesn't satisfy you then you should not rent it. Email us to get the latest rate or cost to renting gear for Everest base camp trek like sleeping bags, down jacket and rucksacks etc.
Now you are clear about buying and renting trekking gear in Kathmandu. When you are planning to take a trek to the Everest base camp it is of important to select and carry right gears. We are local adventure in Nepal; organize Everest base camp trek, Gokyo lake trek, Everest view trek, Everest three pass trek and other Everest trekking trips according to your desire.
No worry renting trekking gear in Kathmandu is easy and cheap. There are many shops in the Thamel area provides cheap and best trekking equipment's. Our guides help to select and Renting gear for Everest base camp trekking in Kathmandu also.