Tea houses trekking to Everest base camp Nepal lodge to lodge trek to Khumbu
Nepal has been a low-temperature area in its mountainous region. Thus there has been a certain need of Tea houses on Everest base camp trek for beating the cold temperature. Tea house trekking in Everest area is one of the most popular styles of trekking. More than 97 percent of travelers walk to Everest base camp and humbug area on tea house trekking basic. There are many tea houses available along almost trekking route of Everest trekking region. Tea houses of Everest provide all basic facility like internet, bed, breakfast, lunch, dinner and many more.
Surprising services provided by the teahouses on the Everest base camp trek are verity of western foods enjoy teahouse trekking in Nepal the Himalayas.
List of Tea house trekking packages in Everest region
Everest base camp trek                                   Mount Everest view trek
Gokyo lakes trek                                               Everest three pass trek
Cho la pass trek                                                Luxury Everest panorama trek
Everest base camp trek via Jiri                   Luxury Everest base camp trek
Ama Dablam base camp trek                        Renjo la pass trek
Everest Sherpa village trek                          Everest view Yeti trail
Mani rimdu festival trek                               Phaplu to Everest base camp trek
Island peak climbing with EBC trek
Basic facilities available lodges of Everest region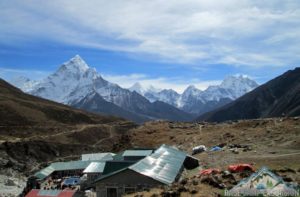 When you are exploring high altitudes some time you have to face the beat of heavy cold storms and fall altitude frequently. In order to tackle them with ease, every hikers and climber requires basic amenities of life like the houses for shelter, blankets to beat the cold, trekking clothes, beverages, foods etc. and also the Hotel and Lodges to Sleeping in the Himalaya.
Such requirements are necessary for one's survival too. Stay at best hotels & Teahouses on the Everest base camp trek for better experience. So to have your needs fulfilled there are many tea house on Everest base camp route. Apart from these even you can enjoy the WI-FI service to make easy contacts with your families far away from you.
Good sleeping materials, quality foods, hot shower facility, Wi-Fi service, warm dining, good bed to sleep with pillows, sheets, blankets are the facility of tea houses of Everest. Trekking through tea houses is quite interesting as they look pretty good and marvelous enough. You probably cannot miss such opportunity of living in such beauty of Tea-houses on Everest base camp trek.
Tea houses Tea houses trekking to Everest base camp
Elevation of Mount Everest is 8848 m, Everest base camp 5360 m and Kala Patthar 5545 meters above sea level. Visiting this high altitude require safe and secure accommodation to protect from cold. Field with basic facility there are many tea houses or lodges providing service for trekkers and climbers.
All lodge to lodge trekking trails of Everest region listed above. We are local adventure tour organizer, if you interested to discover Everest base camp area write us. we will send you Tea houses trekking to Everest base camp quote for private trip or group joining basic according to your desire.