Things needed for Everest base camp trek kit advice
Are you about to go for a trekking expedition to the Everest base camp? Remember, appropriate packing in necessary. Given kit list for the Everest base camp trek is to make the trekkers easy, check the packing list and packing properly before heading to EBC Nepal. You need to do the packing in a style that you get the necessary stuff handy, but you are not overloading your backpack size.
Here is the list of the things needed for Everest base camp trek.
Attire & Accessories
You need to keep in mind that layering is going to be crucial, while trekking to the Everest base camp. The list for clothing should include: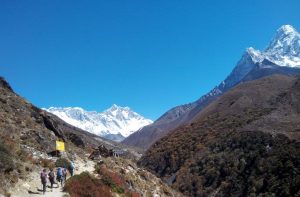 A pair of fast drying base layer shirt
A pair of short-sleeve trekking shirt
2 pairs quick-dry sports bra (for women)
2 sets of thermal undergarments
3 Pairs of wool blend trekking socks
1 light weight & 1 heavier sweater
2 pairs of trekking Pants (zip-off bottom design)
A pair of Rain / winds proof hiking Pants and Jackets
2 down vest
Waterproof gloves, fleece or wool gloves
Liner gloves and socks
Thermal layer hat (lightweight)
Sun hat
Neck gaiter, buff or bandana
Trekking boots and gloves
Down Booties
Quick drying towel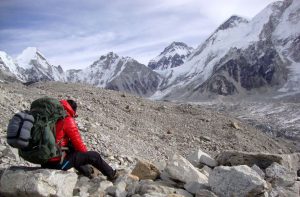 Everest base camp trek kit list / personal gears
Headlamp
Sunglasses 2 pair
Water bottle
Book, Journal, Pen
Pocket knife (keep in luggage while flying)
Trekking poles
Local money NRs
Everest base camp kit advice electronics
You should not overload your backpack, carrying unnecessary electronic devices. However, you need to carry the following items: Porter carry 20 to 25 kg of luggage. We do provide trekking porter two guest 1 porter basic. In this way try to keep your luggage below 12 kg each.
DSLR Camera with few extra batteries
Small binoculars
Solar Charger
Watch with alarm
Spare headlamp and camera battery, memory card and charger
Day pack (25–35 liters) with pack cover
You should keep the batteries, closest to the body as possible so that it lasts longer
Personal first aid kit and medicines
We provide basic first aid kit and normal medicine with the support of guide. But you should carry your personal medicine and medical kit while trekking because it is not easy to find the same medicine on trail which you are using. Highly recommend to bring yourself, go slowly to minimize the risk of acute mountain sickness.
Anti Nausea
Medicine for diarrhea
Band aid
Moleskin
Eye drops
Sunscreen
Anti Septic
Nasal Moisturizers
Tweezers
Antibiotic
Hand sanitize
Toiletries
Toilet paper
Toothbrush & paste
Personal wipes
Soap, Shampoo and conditioner
Lip balm & skin lotion
Razor and shaving cream
Documents and credentials
Airline tickets
Valid Passports
Nepal Visa (get on arrival)
6 Passport size photos
Miscellaneous
Powdered Juice
Tea / Coffee sachets
Chocolate Bars
Peanuts & Trail Mix
Snacks & cookies
You should never haste through the packing and give sufficient time to it so that you never miss any important items. The Everest base camp trek kit advice suggests that you should check and cross check, you included all the necessary items. But, you should not load the bag with unnecessary stuff. You should always check the electronics are in the perfect working stage.
Use the list suggested above as your checklist to ensure the perfect packing for the trekking in Nepal. I think now you are clear about things needed for Everest base camp trek. Write us to get the best trip cost with professional guide to visit Mount Everest base camp trek Nepal.