Top 10 Nepal trekking tours in Himalaya & best treks in Nepal
Nepal trekking tours are the true adventure for the brave climbers. If you are exploring Nepal, you must know about the best treks in Nepal. In Nepal, many options for package trekking tours are available for you. We have tried to gather the basic information about these trekking trips of Everest region for you.
Here is the list of top 10 Nepal trekking tours in Khumbu region Himalayas.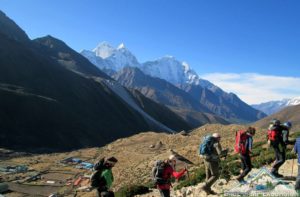 1: Everest base camp trek
Mount Everest base camp is situated at a height of 5360 meters in Sagarmatha National Park, Nepal. Many people have aim to see Mount Everest one day. To make you desire full fill, we organize guided Everest base camp trekking to go on luxury and budget basic. There are three different points to start EBC trek Phaplu, Jiri and Lukla.
Among of these three spots Lukla to Everest base camp is the famous one. While trekking to the Everest base camp, you should also take a side-trip to the very sacred Gokyo Lakes. This trek listed not only in top 10 Nepal trekking tours in Everest region Nepal but also listed in between top ten best trek in the world.
2: Mount Everest view trek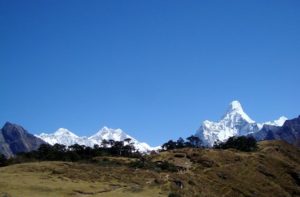 This trek offers you a great view of the Everest and you don't need to trek to the base camp to get this up-close view of the world's highest peak Everest. Height of best Everest view point is 3880 m Khumjung in the highest places luxury hotel in the world hotel Everest view balcony. The best season for this trek is from the month of March to May and from the month of September to November.
3: Gokyo lakes trek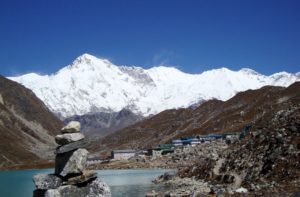 This trekking is often offered as a component of the Everest base camp tour. This is a mind-blowing journey to the captivating Gokyo Lakes 4,790 meters 15,720 feet and Gokyo Ri 5,357 meters, 17,575 feet which is an astonishing view point and offers amazing views of Everest and other mountains.
4: Everest three pass trek
This is an amazing adventure trek you have to cross the three high passes Kongma La 5535 m, Cho La 5430 m and Renjo La 5345 m  passes. Challenging Everest high pass trek offers an amazing view of high mountains. It is the best option to explore all corners of Everest trekking region the Himalayas.
5: Cho la pass trek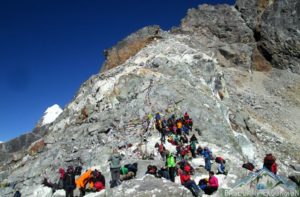 To reach Gokyo Lakes, you trek over the Cho la pass trek. Crossing 5430 meters Cho La pass is an adventurous tea house trek. This trekking offers you spectacular glimpses of Sherpa village, culture and lifestyle.
This trek package is popular between those trekkers who interested to explore the beauty of gokyo lakes and Everest base camp at once. Book this all-inclusive Gokyo Lakes and Cho la pass trek package with us.
6: Jiri to Everest base camp trek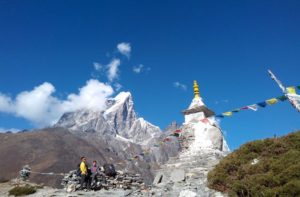 This is a classic trekking from Jiri to the base camp in Everest that was first done in 1953 by Hillary and Tenzing. Highly praised Jiri to Everest base camp trek is connect many ethnic villages their culture and lifestyle which you can observe very closely. Check our jiri to Everest base camp itinerary and the distance from jiri to Everest base camp then book with expert.
7: Island peak climbing with EBC trek
In order to have an absolutely amazing, combined trekking and climbing experience, you must go for the exceptional Himalayan adventure trip. Island peak trek is suitable to get the trekking and climbing experience at once. Physically fit any one can go to Everest base camp 5,360m, Kala Patthar 5,545m and climb island peak 6,189m too.
8: Ama Dablam base camp trek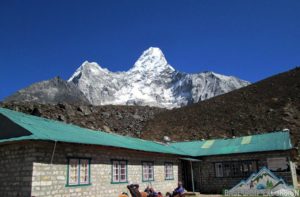 Amadablam base camp trek offers you absolutely splendid views of world's highest peak. It is going popular between trekkers these days. It is moderate level trekking in the Mount Everest region.
You also get spectacular views of several sacred Buddhist monasteries and villages of the Sherpa people in the Himalaya during this trip. Explore the base camp of most beautiful mountain of Khumbu region Mount Ama dablam 6,812 meters.
9: Renjo la pass trek
Gokyo valley renjo la pass trek is less visited trek among all trekking routes of Everest. If you interested to touch the real beauty of Himalayas the go to Renjo la pass trekking. It covers the legendary Sherpa villages and the traditional trading route to Tibet. Crossing Renjo La 5345 m pass is a great achievement for hikers. This is one of the best treks in Nepal that combines tiring daily climbing with unique cultural experiences.
10: Phaplu to Everest base camp trek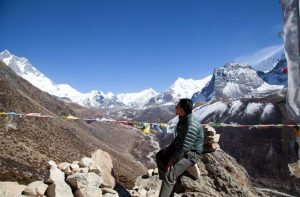 Salleri or Phaplu to Everest base camp is an alternative option for those who are not interested to landing in Lukla airport. Daily jeep leave from Kathmandu to Salleri then trek start to go to EBC. Another option is to flying to Phaplu airport then trek to Everest base camp.
This trek is a standard trek that leads you to the base camp of the majestic Mount Everest. While trekking, you can take pleasure in viewing and explore the scenic beauty of the Khumbu region.
Now you are clear about Top 10 Nepal trekking tours or best treks in Nepal Everest region. We are highest peak base camp specialist company for Khumbu region trekking. We organize all Nepal trekking tours according to your desire and duration of holidays. If you interested to explore Everest trekking region or need up to date information about this area write us.