Top 10 Sherpa cuisine on Everest base camp trek to try Sherpa foods
Useful information about traditional Sherpa cuisine and recipes helps you to try Sherpa foods during Everest base camp trek in Himalayas. Sherpa's are the ethnic and indigenous people of Nepal. Sherpa people are famous for their mountaineering skills worldwide. The staple diet of the community consists of potato, barley, locally grown vegetables, meat and other products from Yak and sheep. Available Sherpa food items listed below must try while traveling to Everest base camp trek with awesome Sherpa's.
Details list of traditional Sherpa foods on Everest base camp trek route
1: Tsampa
Tsampa is a popular Sherpa food made from roasted barley after grinding. Usually Tsampa flour mixed with hot water, milk or tea as per the availability to eat. Butter, sugar and 7 Chopped hard cheeses can be added to soften the dish and improving the texture. Tsampa used to make porridge also. You can get tsampa or tsampa porridge during Mount Everest base camp trek Nepal.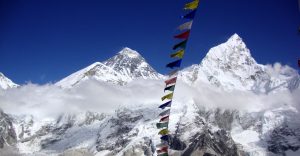 2: Sherpa stew (Syakpa)
Syakpa is a traditional Sherpa food. It is a soup or stew made from handmade noodles, meat from sheep or yak, potato, radishes, carrot, spinach, onions and other spices. It helps to keep the body warmer in high altitudes. Each tea house on the way to Everest base camp serve Sherpa stew on demand.
3: Sherpa tea (salty butter tea)
Salt butter tea is a most popular Beverages of Sherpa community. Beside that local use black tea, hot lemon, mango and orange flavored juice. Some alcoholic drinks are "Chang" milky beer made from fermented millet & "raksi" which is a rice wine used for popular celebrations and weddings.
4: Potato pancake (Aalu Roti)
Potato is the most important element of Sherpa food recipes. Most of the Sherpa food cuisines make use of potatoes. Riki Kur is made from grated potatoes mixed with wheat flour and make pancake. It serves with yak butter and pickles or sauce.
5: Somar
Somar is a kind of yak milk related product but not advisable to try for tourist. It may cause diarrhea. It is very popular in between Sherpa community. Local uses somar to balanced taste on different foods including boiled potatoes.
6: Khapse
This is a Tibetan influenced dish. It is made from flour, eggs, butter, sugar and yeast on special occasion like New Year, pray at monastery etc. Khapse is a kind of traditional biscuits make in different shapes and sizes. it is possible to store longer too.
7: Tingmo (Tea MoMo)
Tingmo is a steamed bread in Tibetan cuisine but very popular between Sherpa of Nepal. it is famed as a Sherpa cuisine on Everest base camp trek. Local make steamed buns filled with minced meat, vegetables, and spices as per preference taste. It is served with pickle, sauces or tea.
8: Tibetan bread
Tibetan flatbread is made from all purpose flour and salt. It is also known by the local name of Sherpa / Tibetan bread. You can take a taste of Sherpa bread in each lodge of Everest trekking route in Nepal.
9: Rildok
Ridlok is a traditional Sherpa food made from potato. Boiled potatoes are smashed and sprinkled with salt and yak butter. The dough is then made into small balls and served with pickles or soup.
10: Momo (dumpling) & noodles
Momo is a very popular Sherpa food. The fillings used are either of meat or vegetables. They use garlic, onion, spring onion etc as the spices. Beside that Sherpa people make different verity of fried noodles also.
The Sherpa cuisine and Sherpa food recipes are based on locally available food and ingredients. The traditional Sherpa food maintains their strength and stamina in the high attitude and keeps them fit for the high altitude challenges. Take a taste of top 10 Sherpa cuisine on Everest base camp trek the Himalaya.