Top 10 tourist attractions in Nepal & best things to see in Nepal
Are you planning for tourism in Nepal? Then here's the perfect list of Tourist attractions in Nepal information and spots! Nepal has been a federal republic in the South Asian. A fascinating talk is the location of Nepal in the hands of Himalayas. These fabulous mountains have the ability to make Nepal as one of the most attractive places especially for the tourists from all across the world. Now let's go to explore the region and learn the best things to see in Nepal!
What makes Nepal a tourist spot?
Combination of Mountains, rivers, green hills and plain area makes Nepal fascinating and attractive showing the tourists what nature has to them. The Himalayas, Mount Everest, hilly region and the plain areas are the beauty of nature's world.
Thus Nepal being surrounded by the tallest mountains and the fertile and humid regions around has eventually made them the best tourist spot to be listed today. There are lots of best things to see in Nepal.
Mount Everest is the main tourist destination out of top 10 tourist attractions in Nepal as well as in the world. Everest packages provide you an opportunity to travel around best things to see in Nepal & naturally beautiful places in Nepal.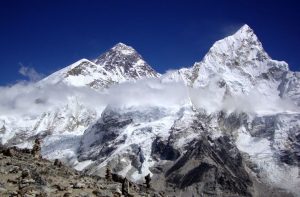 Everest base camp trek, 9 days, 10 days, 12 days, 14 days
Mount Everest view trek, 5 days, 7 days
Gokyo lakes trek
Everest Cho la pass trek
Everest base camp trek via Jiri
Luxury Everest base camp trek
Everest three pass trek
Ama Dablam base camp trek
Phaplu to Everest base camp trek
Gokyo to Renjo la pass trek
Now it might be quite clear to you what has made them the best one for you. Apart from these eventually the climate has also been responsible for attracting tourists from all over. Basically, its climate varies depending upon the altitudes. Like the other areas Nepal to experience the best five seasons of nature.
Here is the list of top 10 tourist attractions in Nepal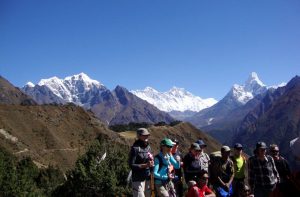 1: The Himalayas
The great Himalayas are the main tourist attraction of Nepal. Literally nothing on earth compares to the Himalayan mountain vistas, and you don't have to be a professional mountain climber to enjoy some of these experiences. Trip to Nepal is in fact trip to the Himalayas.
Those who are fond of expeditious trips in which they can enjoy beauty of the nature and spiritual satisfaction will certainly opt for a holiday trip to Nepal the Himalayas. Visit Nepal to enjoy the beautiful panoramic views of snow covered mountains in Nepal.
2: Mount Everest
Nepal is in the shadow of the Everest, the world's highest mountain. The highest peak of the world is not only the tourist attractions in Nepal. Mount Everest is the proud of whole world. Fulfill your desire to see the Mount Everest once in a live time visit Nepal.
Classic Mount Everest base camp trek follow Dudhkoshi River, narrow valleys, Sherpa villages and high spectacular mountains, including World's highest places natural world heritage site Sagarmatha National Park. Sunrise views from Kala Patthar over the snow capped peak are an unforgettable experience.
When Sir Edmund Hillary and Tenzing Norgay made first successful ascend in 11:30 a.m. May 29, 1953 via south col then Mount Everest region become popular between foreign travelers. Everest region is protected by the Sagarmatha National Park, established in 1976 with an area of 1148 SqKm. Everest trek packages offers the great opportunity to explore world highest peak Mount Everest.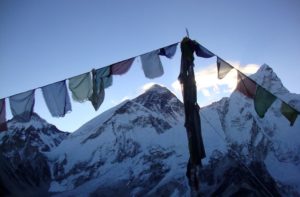 3: Lumbini
Lord Buddha was born in Lumbini garden in 623 BC. Explore the birthplace of Buddha to get the better place for your religious view to be enhanced. Even it has been a great attraction of the Sacred garden. Lumbini is not only famous between Buddhist but also for all who believe in peace and love too.
Lumbini is the center of holy faith for the millions of Buddhists all over the world. Lumbini tour is the combined package of Buddhist pilgrimage destinations. Let's go to explore one of the best places to see in Nepal "Lumbini" the birthplace of the Buddha – the apostle of peace and the light of Asia.
4: Pokhara city
Pokhara is a beautiful city of Nepal attracts many travelers from around the world to explore its natural beauty. Pokhara city is one of the hubs of adventure spots like Paragliding, jip flyer, ultra light flight, bungee jumping, rafting and boating Phewa lake. Main sightseeing spots of Pokhara are Phewa Lake, Sarangkot, Mahendra cave, Devis fall, Bindabasini temple, peace pagoda, Mahadev cave etc.
Sarangkot hill and shanti stupa are the best spots to see sunrise, sunset and mountain views of the Himalayas. Annapurna range and phew lake add more attraction in Pokhara city. Most popular trekking trail like Annapurna circuit, poon hill, Annapurna base camp are start and ending in Pokhara. Pokhara is a very popular by tourist attractions in Nepal.
5: Bhaktapur
Bhaktapur is a famous city in Nepal situated in the east of Kathmandu. This city is well known for its traditional arts, culture and historic monuments. For the tourists, sight-seeing in Bhaktapur is one of the most exciting parts of their program. Bhaktapur provides the refreshing experience with natural beauty, culture ethnicity and beautiful sightseeing views. Bhaktapur Durbar Square, Changunarayan, Nagarkot are the main tourist attractions of Nepal Bhaktapur. Exploring these places in Bhaktapur is a memorable experience for all the visitors.
6: Kathmandu city
Kathmandu is the capital city of Nepal only gate way to enter Nepal by flight for foreigners. Due to the pollution, dust and crowed many travelers are not interested to spend only few night in Kathmandu. But there are so many best things to see in Nepal in Kathmandu valley. Kathmandu is the cultural, historical and political center of Nepal.
It is situated 1300m above sea level with temperate climate; best time to visit this place is from October to December and March to May. Patan and Bhaktapur are rich in a term of tourism, cultural heritage, Hindu temples, Buddhist monasteries and natural beauty; these are the highlights of Kathmandu valley. Explore the mysterious Kathmandu valley once and discover world heritage sites. It offers a lot of sightseeing places and is a commercial hub for shoppers.
7: Chitwan and Bardia national park
Jungle safari in Nepal would be an exceptional experience for you as it has a lot to offer. There are different options for wildlife safari in Nepal like; Chitwan Jungle safari, Bardiya jungle safari etc. If you want a remote wildlife safari Nepal, then Bardia jungle safari is your answer.
The verdant sub-tropical Chitwan jungles could be enjoyed by jungle walking, jeep safari, elephant safari etc. So if you wish to discover wildlife at its best then why not consider wildlife tour Nepal. Chitwan and Bardia national park are such national park has been a better place for you to experience.
8: Upper mustang tourist attractions in Nepal
Upper mustang is an isolated corner of Nepal, the former kingdom of lo. Following the Kaligandaki River travelers reach beautiful upper mustang very similar to Tibet. Upper mustang is controlled trekking area opened for foreigners since 1992 A D. Travelers have to obtain special permit require to enter Lo Manthang Mustang.
Sacred pilgrimage Damodar kunda is also situated in upper mustang. Major attraction of Mustang trekking area are antique Tibetan villages, rare medieval Buddhist arts, Luri Gompa, Ghara village, the exotic culture and the unique beauty of the Himalayan desert. Explore once in a life time to capture its natural wonders.
9: Annapurna region tourist attractions in Nepal
The name of Annapurna region comes in the second popular trekking areas of Nepal. Annapurna trekking trails are decorated by the stunning nature. Travelers can discover the ethnic culture of Gurung and Magar people also. Main attraction of Annapurna areas are the Himalayas view of snow capped mountains. Annapurna is protected by the Annapurna conservation area, established in 1992.
ACAP is the Nepal's largest protected area covering 7629 sq. km. Annapurna Conservation Area contains some of the world's highest peaks the 10th highest Mount Annapurna I and the 7th highest Mount Dhaulagiri. Worlds deepest the Kali Gandaki gorge also is in ACA.
10: Dolpo – Hidden Karnali region
Amazing dolpo located behind the Dhaulagiri massif, towards the Tibetan Plateau hosting lots of hidden Himalayan Shangri-La. Trekkers reach upper dolpo crossing three high pass Kagmara La 5115m, Baga La 5190 m, Numa La 5159 m and Shy Phoksundo Lake. Dolpo is almost impossible to compare its strange beauty and surprising charm with other places.
Hidden Dolpo was opened for exploration since 1990 for foreigners. It is controlled area require special permit to enter. Rare flora and fauna, culture and lifestyle of this area attract many people to discover it. Dolpo hidden Karnali region has surprisingly enhanced the Himalayan tropical region and the forests areas.
Now this might be quite interesting for you to explore the Nepal tourist attractions and know what to see in Nepal.
Though such exciting places would be not less for you to visit but yet much more are to be there for you to come across. So if you are planning to visit Nepal then just go grab that opportunity and visit Nepal! No you are clear about Nepal tourist attraction and the top 10 tourist attractions in Nepal are here for you to have a look at! We organize all kinds of travel tours in Nepal according to your requirement write us to visit the best tourist attractions of Nepal.