Top things to do in Namche bazaar & places to see in Namche
The main & top things to do in Namche Bazaar are an exploration around highlights, places to see in acclimation day. Namche Bazaar altitude is in 3500 m. it is the acclimatization point for the trekkers to go Everest base camp. Among the many things to do, the visitors go to explore market to buy many require things including souvenir gift, handicraft and equipment's.
Most of the trekking and climbing routes of Khumbu area pass throw the Namche Bazaar.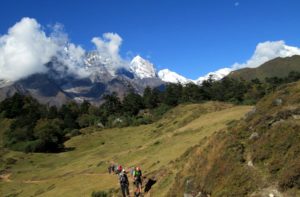 It is acclimatization point to avoid high altitude sickness naturally. Everest base camp trek, Gokyo lakes treks are the most popular route of the Himalayas.
Top things to do in Namche bazaar
1: Hiking to Everest view point and Namche bazaar exploration in rest day
2: Visit Sherpa Museum to know the ancient image of Sherpa people, tradition and arts
3: Sherpa village excursions help the travelers to know the lifestyle and culture
4: Rest for Acclimatization
5: Celebrate Dumjee Festival with local if you travel to Khumbu during this festival celebration time
6: There are so many pub, café and bars trekkers can Enjoy party at Namche after and before complete the trek.
7: Rotate all prayer wheels in right direction while you are walking along the Mani walls and prayer wheels.
8: Watch documentary at Namche in rest day
9: Issue trip achievement certificate when you come back from trek.
Are you interested to visit Namche bazaar in best time of year? Let's go to explore major tourist attractions in Namche bazaar. Given packages covers all places to see in Namche including short trek to Namche Bazaar.
Everest base camp trek, 9 days, 10 days, 12 days, 14 days
Mount Everest view trek, 5 days, 7 days
Gokyo lakes trek
Everest Cho la pass trek
Everest base camp trek via Jiri
Luxury Everest base camp trek
Everest three pass trek
Ama Dablam base camp trek
Phaplu to Everest base camp trek
Gokyo to Renjo la pass trek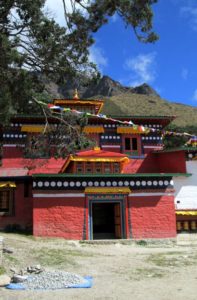 Namche Bazaar is known for its ancient cultural and traditional hospitality. Since this place is on the slope of a mountain which is arch-shaped, among the places to see in Namche Bazaar.
Visitors go to the Everest view point near Namche bazaar where they get spectacular views of the mountain peaks throughout day and night. As a gateway to Himalayas, Namche bazaar is now a popular tourist destination and capital of Khumbu.
The trekkers relax here for two days to acclimatize. As part of the acclimatization process, they walk around this place including Syangboche airport, Sherpa villages like Khumjung, Khunde and Thame. These villages are just a few hours walk from Namche Bazaar Nepal.
Amazing places to see in Namche bazaar
1: Sagarmatha National Park Visitor's Centre
2: Namche School
3: Saturday market
4: Namche monastery
5: Namche Library
Namche is also known as the Sherpa capital. The stories of the legendary Sherpa people are very popular in this place. Men and women from the Sherpa villages in Namche had been exploring Mount Everest since 1920. The trekking route that passes through Namche Bazaar provides awe-inspiring views of the mountain peaks, Buddhist monasteries and museums along the way.
The warm hospitality of the Nepalese people makes the stay in Namche an unforgettable experience. If you would like to participate in these adventurous things to do in Namche bazaar and would like to visit Namche bazaar write us.