Everest base camp trek cost overview
Asia, Nepal, Everest base camp trek is the most popular in the world. It will allow you to experience many fun and interesting things to do in Khumbu area. Let's check the Everest base camp trek cost financial considerations and useful tips to reduce trip cost. It is important to know the average Everest base camp trek cost to take a taste of most famous hikes in the world.
General price for 12 days Everest base camp trek with all meals, accommodation, hotel, guide, porters, permit & round trip flight to Lukla range between US$ 1175 to $1275 per person. If you are searching luxury accommodation then it cost US$2750 to US$3500 per person. The key points to determine Everest base camp trek cost are given below.Mount Everest base camp trek price breakdown.
Everest base camp trek cost financial considerations
1: International flight average cost US$1200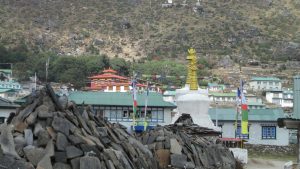 2: Travel insurance for 1 month : US$150. (Make sure that insurance policy covers whole trip)
3: Nepal visa fee multiple entry for 30 days: US$40
4: Average medication and vaccinations cost: US$ 150
5: Average Everest base camp trek equipment's cost: US$ 600
6: Basic Everest base camp trek package cost: US$ 1175. Luxury package cost: US$ 2750. Package covers the cost of guides, porters, permits, round trip flights to and from Lukla, food and accommodation during trekking period in Himalayas.
7: Tips for guide and porter : US$ 175. (Minimum 10 % of package cost)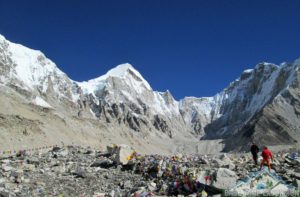 8: Personal expenses: US$ 150. (It covers internet, mineral water, hot shower, battery recharge etc.)
9: Kathmandu hotel & food before and after trek cost: US$ 100.
10: Finally: check how much does it cost of Everest base camp trek in total: US$ 3540 for basic and US$ 5115 for luxury package per person.
Local adventure company able to provides the quality service in given Everest base camp trek cost. International agents charge bit more but organize with the cooperation of local agency in this way best to travel with local. You choose a local trekking agency over an international one which make trip cost much lower.
How to reduce trip cost of Everest base camp trekking?
The best answer how to reduce trip price in Everest base camp trekking is to do your trekking independently. The draw back to doing this is that you will be responsible for all aspects of your trip. You will need to arrange your trek. You might also need to self-guide and you are going to have to make your own reservations for accommodations plus all other travel arrangement.
Trekking through the Himalayas will be an experience you will remember for a lifetime. There are a lot of Everest base camp trek cost financial considerations to be made. We destination expert offer verity of packages as per the demand like BB basic, full board package and guide porter service etc. We do provide special discount on online advance booking, email us for further information and discussion.