Web's no 1 Everest base camp trek description online guide in details
The most popular expedition undertaken by the tourist in Everest region of Nepal is Everest base camp trek. It is typically a two-week trek which offers breathtaking beauty, exposure to the natural diversity and culture of the Himalayas. It is also a memorable experience and exploring the shadow of Mount Everest – the highest peak in the world can be an overwhelming occurrence. Details Everest base camp trek description encourage you to travel such stunning place.
Mount Everest base camp trek web's number one trekkers guide
It is advisable to initiate pre trek preparation for upcoming adventure at least one month prior to trek. Run 5 to 8 miles a day, do regular exercise, cardio vascular training, yoga etc will be helpful to tackle in high altitude.
There are distinct two trekking seasons. The best time to go to Everest base camp trek are the months of Spring and autumn season. Weather during these months is dry and ideal for trekking in Nepal. Packing the right gear for the trek is important check the packing list.
Let's check do you need a guide for Everest base camp trek
Mount Everest base camp trek is one of the most famous and well-established walking trails of Himalayas. Nepal Hiking path is not very difficult no need prior experience & professional training. Physically strength any one can complete within 2 weeks by walking 10 to 15 km per day, follow the advice of guides for safety.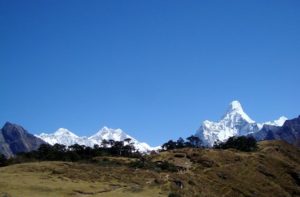 Our guide led the trek slowly at a convenient pace to avoid altitude sickness. In the middle of the journey you will get 2 days rest at Namche bazaar and Dingboche for acclimatization. Drink sufficient water to stay hydrate, climb high sleep low, follow lessons of guide to make successful trip.
Web's No.1 online guide to Mount Everest base camp trek description useful for all those planning to come to discover Mount Everest. We local adventure company organize world famous Everest base camp trek as per guest requirements. Email us to get package detail to embark on significant journey to observe the Himalayan wonders.