The best side trips of Everest base camp trek
One of the most popular trekking areas in Nepal is Everest base camp. It draws a lot of attention and attracts many tourists that visit the country. The trek runs through some of the most heart stopping terrain you will ever experience.
There are many side trips available on this trek. Side trips are to help with acclimatization so you will fully enjoy the experience of the main trek. Some of the best side trips of Everest base camp trek are listed below.
List of Everest base camp trek side trips

1: Side trip to Thame village.
It is not much frequent walking area but really calm area for day hiking. This side trip will allow you the experience the old route used for trading that connects Tibet and Khumbu, Nepal. You will not experience a lot of traffic on this side trip.
The only trekkers you will come across are maybe those coming from the Rolwaling Valley or Renjo la pass. Depending on the time of year you go trekking you will experience the national flower of Nepal in full bloom.
2: Side trip to Khumjung & Khunde
This is Sherpa's most beautiful village and it is the most ideal way to pass time if you're not the type to sit in the lodge and idle. It is 1 hours uphill walk from Namche to explore abound Everest view point, Khumjung, Khunde and Hillary school etc.
3: Side trip to Ama dablam base camp
Ama dablam base camp located at an elevation, one of the best place to visit during EBC tip. 3.30 hrs walk from Pangboche is enough to reach the base camp of most beautiful peak of Khumbu.
4: Side trip to Chukung valley
If you need an easy acclimatization side trip Chukung is the perfect one for you. It is the best introduction to the flora. The trail runs through the juniper shrubs. The best time to experience the flora you need to visit in the summer months.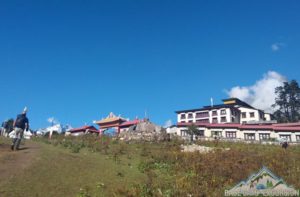 5: Side trip to Kalapatthar
This is the best place for you to feast your eyes on the beauty that is Mount Everest. Many people start out early so they can view the sunrise from Kala Patthar, the best place to experience the sunrise. This is one experience that you will keep for the rest of your life.
I think you are clear about what are the best side trips of Everest base camp trek and possibilities. Different side trip of Everest base camp trek make it memorable moment in the Himalayas. These excursions helpful to minimize the risk of acute mountain sickness. If you decide to go trekking in Nepal you should know those trips of Everest base camp trek. It offers some of the best views and the best side trips. Nepal is a beautiful country and trekking in the Himalayas is an experience that you will never forget.