What are the common illnesses for trekkers to Everest base camp trek
Travelers who are  experience & physically capable do not suffer from altitude sickness or other health issues. Illness for trekkers to Everest base camp trek depends on physical ability. Physical strength of human beings differs from one another. However, one who don't exercise regularly or who are weak and have fitness problems suffer from it.
When you move up the trails, you feel the changes in environment. Due to sun, wind, cold and low oxygen levels, trekking becomes more challenging for the trekkers in highland. So, they start feeling weakness. Some common illnesses for trekkers to Everest base camp trek are listed below.
List of Mount Everest base camp trek common illnesses
1: Acute mountain sickness (Symptoms: Headaches, Fatigue, Vomiting, Shortness of breath, Dizziness, Lack of sleep, Loss of appetite)
2: Gastro illness (Digestive disorders)
3: Diarrhea
4: Normal pain on knee / back / ankle
5: Blisters, swelling of hands and feet
6: Cough, colds, throat and chest infections
These are the common illnesses for trekkers to Everest base camp trek in Nepal. We advise all to visit Everest base camp after proper training & preparation to make safe and sound journey. Beside that make travel & health insurance for Everest base camp trek that covers helicopter rescue on just in case of emergency, if require.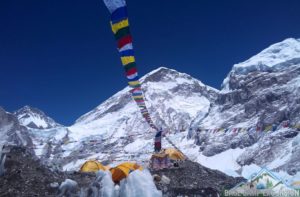 Generally, altitude sickness affects trekkers from the height of 2500 meters/ 8202 feet above the sea level. Read the tips to prevent altitude sickness on Everest base camp trek Nepal. Those, who are physically unfit, may start experiencing the effects of altitude sickness as soon as they start moving up the trail.
There are many reasons for common illnesses for trekkers to Everest base camp trek. The main reasons are lack of knowledge about the region, lack of experience in trekking, medical conditions, over estimating physical strength, unavailability of a professional guide, unavailability of medical assistance and ignorance. At high altitude, people of any age, sex, religion, and physical and mental conditions can suffer from acute mountain sickness and other health problems.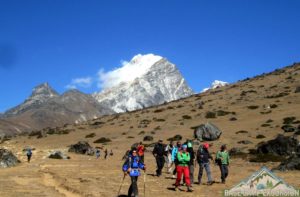 Sometime experience trekkers, expert guide also suffer from acute mountain sickness. They are immediately airlifted from the trek to Kathmandu. Symptoms can range from being mild to fatal.
It is necessary to follow the expert design itinerary with the support of professional guide and enough rest days for acclimatization. Rest days helps your body to adapt quickly in high altitude.
I think given information about common illnesses for trekkers on trek are useful for all to make plan trip to avoid it during the journey. We are Everest region specialize adventure company based in Kathmandu, Nepal, if you interested for Mount Everest base camp trek write us to get the professional service.