What are the hardest days of Everest base camp trek the Himalayas
Being a Khumbu region specialist; our responsibility is to inform you about the difficult part of Everest base camp trek. It helps you to prepare mentally and physically in advance to tackle any situation on adventure. EBC trekking route is moderate to fairly challenging; its difficulty level depends on your physical strength. Among the whole journey the 5 hardest days of Everest base camp trek are listed below and described why.
1: Larja dovan to Namche bazaar (Phakding to Namche part on second day of EBC trek)
Larja dovan to Namche bazaar uphill ascend crossing Hillary suspension bridge is the beginning of difficult track on Mount Everest region treks. It takes about 3 hours to reach Namche from Larja dovan. Among these 3 hrs walk first part till Everest view point is tough then above the view point. You feel altitude and tiredness when you reach Namche bazaar.
Trek start from the elevation 2610m of Phakding and reach the height 3440 of Namche bazaar first really big climb. We gain 830 meters of height in one day in this way it seems difficult, no worry it is safely doable. Especially for those who are new to high altitudes, the acclimatization is very important and advises to go slowly.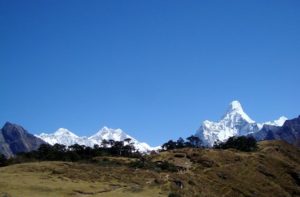 2: Phungi thanga to Tengboche (Namche to Tengboche part on fourth day of EBC trekking)
Ascend walk from Phungi thanga to Tengboche monastery is another tough part of EBC trek route but it is not like Larja to Namche bazaar. Sunlight beat this area from morning to evening in this way quite dry, walking track quite dusty because of the yak caravan.
Phungi thanga situated at 3250 meters and Tengboche located at an altitude 3860 meters. In Phungi thanga to Tengboche section you have to ascend about 610 meters. Surrounding scenery inspire your steps to go further to observe something new.
List of Everest trekking packages which provide opportunities to feel hardest days of Everest base camp trek in the Himalayas.
Everest base camp trek, 9 days, 10 days, 12 days, 14 days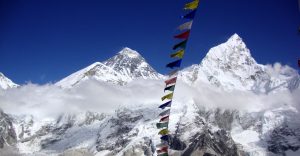 Mount Everest view trek, 5 days, 7 days
Gokyo lakes trek
Everest Cho la pass trek
Everest base camp trek via Jiri
Luxury Everest base camp trek
Everest three pass trek
Ama Dablam base camp trek
Phaplu to Everest base camp trek
Gokyo to Renjo la pass trek
3: Thukla to Thukla pass (Dingboche to Lobuche part of EBC trail Nepal)
In fact Thukla to Thukla pass is the base of Khumbu glacier. It is just 1 hrs walking distance but really big challenge for all trekkers. When you reach the climber's memorial park then tough part finished & gradual ascend takes you towards Lobuche village. Altitude difference between Thukla to Thukla pass is only 210 meters but altitude and rough rocky path make it difficult.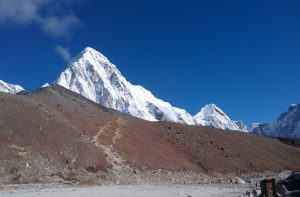 4: Hiking to Kalapatthar 5555 meters /18225 feet
Reaching Everest base camp from Nepal is not an easy task; trekkers have to tackle different situation to make this dream true. Travelers have to walk 38.5 miles to Everest base camp from Lukla.
Out of this distance most of the people feel tricky while hiking to Kalapatthar from Gorakshep Nepal. while trekking to Kalapathar you need more energy, go with proper gears and warm clothes; carry enough water to drink & energy bars to eat on way. Sunrise and sunset over Mount Everest from Kala Patthar looks really amazing.
Sunrise view quite popular between trekkers because the weather. Morning always clear but evening not sure. You have to walk about 415 meters above from Gorakshep is 5140 meters to reach Kalapatthar 5555 meters. Admire Mt Everest from Kala Pattar 5555m! Enjoy mind blowing views of the tallest mountain of the world.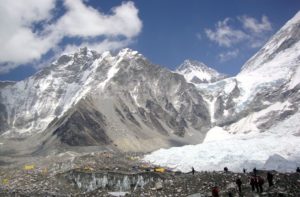 5: Lobuche to Everest base camp 5360 meters / 17585 feet
Lobuche to Everest base camp distance is the toughest part of whole trip because of the rocky pathway along the edge of Khumbu glacier and crossing Changri Nup glacier in high altitude. Gorakshep located at the corner edge of two glaciers Khumbu and Changri Shar Glacier.
Trekkers check in at hotel and Gorakshep, leave luggage and continue towards Everest base camp. South EBC situated middle close to the beginning of Khumbu glacier. It takes about 7 hrs from Lobuche to EBC and back to Gorak Shep village. It seems quite long but surrounding scenery makes you fresh in no time.
What are the 3 hardest days of Everest base camp trek
Many travelers says that "Everest base camp trek is the hardest & most rewarding thing I've ever done". Information about 3 hardest days of Everest base camp trek as below.
Day 02: Jorsale to Namche Bazaar
Day 04: Namche to Tengboche
Day 10: Hiking Kala Patthar
Prepare to tackle these difficult places during Mount Everest base camp trekking in Nepal. We local Adventure company organizing Everest base camp trek for a long time with 100% success rate email us to book a packages no worry about hardest days of Everest base camp trek our professional guide helps you to make it easy.