What are the main reasons to do Everest base camp trek & its worth
Mount Everest discovery is the top reasons to do Everest base camp trek. Travelers from around the globe centralize in Sagarmatha national park to stand at the base camp of Mount Everest. Natural wonders of Himalayas attract them for a lifetime trek; clearly, it offers so many things for you to experience.
It offers the travelers unparalleled views of remarkable forests, glaciers and surrounding foothills. Visiting this destination is a "once in a lifetime opportunity" to view few of the astounding scenarios that you can think of.
Awesome top 10 reasons to go on Everest base camp trek
1: Scenic mountain flight to Lukla
Well-known Everest base camp trek itinerary begins with Kathmandu to Lukla flight above the hilly area along the Himalayan range and offers surprising mountain panorama from the windows of small aircraft. The Mountain View while flying to Lukla impresses you in the beginning of most waited trip of your bucket list. Another main point of interest is the runway of the Tenzing-Hillary airport also.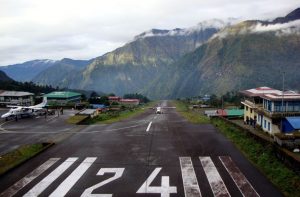 2: Lodge to lodge trekking experience
Now days there are verity of tea houses & comfortable lodge facility available along the trail to spend the night. No need to stay at tent. The Nepali way of life and provides travelers a sight of a different aspect of life.
3: Sherpa people and culture
In fact Sherpa people culture and lifestyle of Everest region influences by the modernity. You cannot see the typical image of Sherpa community these days but you can see the transaction phase towards modern world.
Trek with local Sherpa guide to know the past stories and gain worthwhile experience. Communicating with them can be very interesting as they treasure many fascinating tales about the place and the life there.
4: Everest view Hotel
Your wish to stay and take breakfast at the world highest places star hotel then Everest view trek and Mount Everest base camp trek Nepal will provide you an opportunity to fulfill the desire.
From the restaurant or balcony of hotel Everest view one can get the mesmerizing view of Mt. Everest and the surrounding peaks of the Himalayas like Thamserku, Kangdeka, Kongde, Tabuche, Ama dablam, Lhotse and of course Mount Everest.
5: Hillary suspension bridge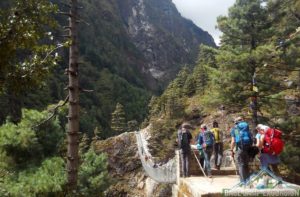 Everest base camp trek pass all the way through the gorgeous landscapes and lovely little villages in Solukhumbu district of Nepal. Trekkers have to cross 9 different suspension bridges to reach Everest base camp over Dudhkoshi River.
Among of these, crossing more than 110 meters high Edmund Hillary suspension bridge at Larja Dovan while heading to Namche bazaar is an interesting experience for tourist.
6: Breathtaking Mountain Scenery
The remarkable landscape is one the primary reasons to do Everest base camp trek. Its grand panorama comprises of the flora, the fauna, the ravine, ice falls, wild lives and definitely the regal peaks will make your trek absolutely cherishing for a lifetime. Kala Patthar view point will give you the epic shot of the Mt Everest "world's highest peak".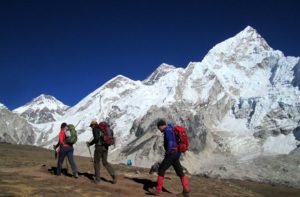 7: Sagarmatha "Highest national park of the world"
Tallest mountain of the world protected at the highest national park of the world, known as Sagarmatha national park in Himalayas, Nepal in Asia.
National park expanded on 1,148 km2 443 sq mi. it host 118 species of birds, 8 rare mammal species and verity of vegetation below snow line. Check the instruction how to reach Sagarmatha national park from Kathmandu.
8: Kala Patthar "Amazing Everest view point"
Height of Kalapatthar is 5555 meters / 18225 feet is a notable landmark offers stunning view of Mount Everest, Khumbu glacier, Khumbu icefall with surrounding alpine zone and lakes. Standing at this elevation to see the highest peak is the top reasons to do Everest base camp trek.
9: Buddhist monasteries
Buddhist monuments, Gumba, Chhortens, Mani walls, prayer wheels observation is another reason to do Everest base camp trek in Nepal. There are many ancient Monasteries on trail or nearby the EBC route. Tengboche monastery is the most visited and important one. Local organize Mani rimdu festival at this monastery and pray for peace and good luck each year.
10: Everest base camp South
Everest base camp south is really very popular between trekkers and climbers. South Col of Mount Everest famed as the easiest route then other for Everest expedition. It is achievable for experience and first-timers trekkers successfully but travel with proper acclimatization schedule.
During this journey you can view a variety of wildlife and vegetation in lower part and alpine eco system in upper section. Everest base camp  is the main target of all explorers among of these top 10 reasons to do Everest base camp trek.
These are the most convincing reasons that one should visit EBC at least once in their lifetime. Arriving at this destination will make you feel no less than a lifetime achievement.
You may not be able to get the view of the whole peak, however, the surrounding grandiose will leave awe-struck. The balanced amalgamation of adventure with incredible vistas has made the Mt Everest base camp worth it.