What to expect on a trekking to Everest base camp Nepal
Experience the thrill to reach the base camp of Mount Everest is the main expectation of EBC trek at the same time travelers experience local culture & diversity nature too. It's not as hard as people think. Trip to Everest base camp is an amazing experience. There are a lot of places to see in Khumbu as well. It is really difficult task to climb Mount Everest; climbers have to cross the dead zone.
The first two days
If you are wondering what to expect trekking to Everest base camp Nepal then does read on; you will be astonished to see what you can gain. Right at the beginning, you will be checking into a hotel where you will meet the rest of the group who will be trekking along with you. Here, you will be taken to visit the famous Pashupatinath and the Buddha Stupa. This is a part of UNESCO as well as the World Heritage Site.
Amazing expiring and things to expect from Everest base camp trek and other packages in Khumbu region. Let's go to know what to expect when trekking to Everest base camp and what you get.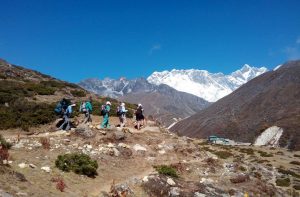 Everest base camp trek, 9 days, 10 days, 12 days, 14 days
Mount Everest view trek, 5 days, 7 days
Gokyo lakes trek
Everest Cho la pass trek
Everest base camp trek via Jiri
Luxury Everest base camp trek
Everest three pass trek
Ama Dablam base camp trek
Phaplu to Everest base camp trek
Gokyo to Renjo la pass trek
The visit of Lukla
On the third day, you will be flown over to the village called Lukla. Here you will be meeting the guides, porters and Sherpas, who will be assisting you during your trek.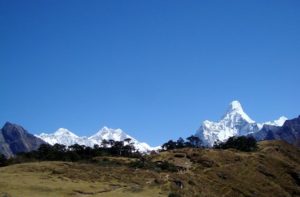 Everest view point
Everest view point above Namche bazaar, Everest view hotel, Tengboche and Kalapather offer surprising panorama of Mount Everest. Wake up early in the morning on the rest day at Namche and hike to best Everest view point. Guide assists travelers to explore these places including museum, monastery and Khumjung village.
Trekking to Everest base camp Nepal difficulty level
Mount Everest base camp trek is not easy. It is moderate level trekking route. During Everest trekking you bump into some of the beautiful landmark in the world. There are some best places to see in the Everest region like Namche, Kalapatthar, Everest base camp, Tengboche, Khumbu glacier and icefall etc.
We advice you spend at least 2 night in Kathmandu to adjust your body in local environment. When you are traveling to Everest throw trekking agency with guide and porters then you don't have to worry about anything. They make good itinerary to minimize the risk of high altitude, provide experience guide and porters.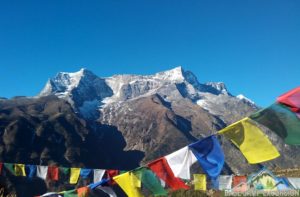 Independent trekking to Everest base camp without guide and porter is not recommended. This trip is to catch some of the most exquisite scenery on the Himalayan Mountains.
What is the best time to start hike in the morning?
It is good to start hiking early morning around 6 to 7 am. Morning always clear, at this time you can see the beautiful scenery around you. If you start late then least chance to see the clear view. Weather is also going worse after noon.
After complete the hiking you reach the camp site. You have plenty of time for rest; you can lie dawn in bed but do not fail a sleep. You can play cards, other games, read books to spend time. Early dinner and early bed recommended to catch-up your next day views. Clouds roll in quickly and obscure the views, in this way start trek and take trip photos early.
Fitness level require for Everest base camp tours
Anyone with good health and physical fit person can go to explore the base camp. You don't have to think about altitude and difficulty level when you plan properly. We have 99% success ratio of trekking tips from 9 years children's to 75 years senior citizen. If you interested then write us to get the quote. We organize pony trek to Everest base camp for senior citizens and those who cannot walk but interested to see Everest.
The Namche Bazaar trekking to Everest base camp Nepal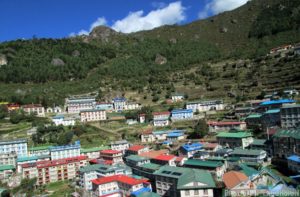 Here you can get a slight glimpse of Mt. Everest. The fantastic steep slopes and beautiful terrain are enough to keep you mesmerized. Here you will be spending one day and go on occasional hikes over the terrain.
The Everest region tourist attraction is becoming more and more famous in the coming days. The more you spend days here, the more you will see its beauty astonishing you.
Mt. Everest is very daunting. This is the primary reason why trekking to its base camp is an adventure as well. You can join any one of the many available trekking camps and trek your way to the base camp of Mt. Everest. It is going to be a beautiful experience. Now you know what can you expect and get on your way to the Mt. Everest base camp. We organize trip to Everest base camp for you to discover the hidden treasures of the place write us.