Where to see Mount Everest in Nepal, best way to view Mt Everest
Amazing best viewpoints of Mount Everest are main subject of interest and major attraction between travelers to Nepal. The stunning views of the Himalayan peaks make Nepal a favorite destination for international tourists. Out of the 14 highest peaks in the world, from Nepal 8 peaks can be viewed. Viewing Mount Everest from Nepal will be indeed one of the greatest experiences in a lifetime.
Where to see Mount Everest from Nepal? If we prepare a list of the best viewing points of Mount Everest from Nepal, the following places are sure to find a place in the list. These viewing points provide the best view of Mount Everest.
Listed trips take you to the best places to see the Mount Everest, no worry "Where to See Mount Everest in Nepal" just drop an email we are happy to organize your tour.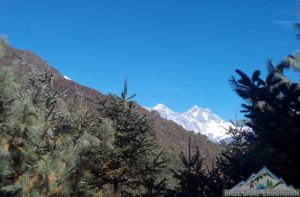 Everest base camp trek, 9 days, 10 days, 12 days, 14 days
Mount Everest view trek, 5 days, 7 days
Gokyo lakes trek
Everest Cho la pass trek
Everest base camp trek via Jiri
Luxury Everest base camp trek
Everest three pass trek
Ama Dablam base camp trek
Phaplu to Everest base camp trek
Gokyo to Renjo la pass trek
Top 5 Mt. Everest viewpoints, where to see Mount Everest in Nepal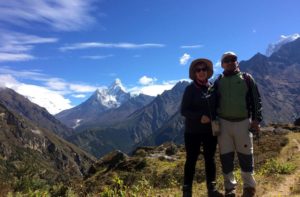 Hotel Everest view: Balcony of Hotel Everest view and nearby places of Khumjung provides stunning view of Mount Everest. In addition it is the ideal place to view of other mountains like Ama Dablam, Lhotse, Nuptse, Thamserku Kangdeka and Tawache etc.
Kalapatthar: If a visitor to Nepal asks the local people "Where can you see Mount Everest from?" the answer will be Kala Patthar. In the geographical map of Nepal, Kalapatthar is located on the southern side of Pumori.
This viewing point is at the highest altitude of 5,545 m and from this point one can have an amazingly closer view of Mount Everest. Apart from highest peak, one can have spectacular views of other mountains also like Nuptse, Lhotse, Amadablam and Pumori.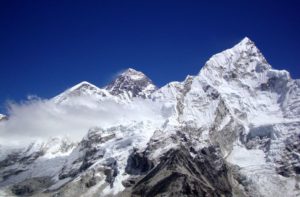 Kalapatthar offers best view of Mount Everest from Nepal.
Gokyo ri: Renjo la pass and Gokyo ri peak offers eye-catching view of Mount Everest, Cho Oyu, Lhotse as well as the Mount Makalu and other peaks of the Himalayas. Trekking to Gokyo ri will take not less than 13 days and from Lukla, one can reach Gokyo Ri after passing through Namche Bazaar and Gokyo Lakes.
Tengboche: Tengboche is at an altitude of 3860m and is above Namche Bazaar. Tengboche monastery area also is one of the popular places to see Everest. From this place trekkers can view the top of Mount Everest and the massive Lhotse wall. In fact Tengboche is known for its famous Buddhist monastery.
Kwongde: Kwongde offers surprising view of Mount Everest but this place is not very popular between travelers. Our Everest view yeti trail package is an alternative options of Everest view trek, to see the magic of nature in Mahalangur range.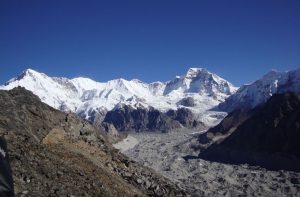 Another easy and comfortable ways to see Mount Everest on a day trip from Kathmandu is helicopter trip to Everest base camp and Kalapatthar. Helicopter fly throw Lukla, Namche, Tengboche, Khumbu glacier, Kalapatthar. Helicopter landing at Everest base camp for a while to take pictures then fly back to Kathmandu within 3 to 4 hrs.
Tibet: If you are searching alternative route and best way to see Mt Everest without climbing go throw north base camp Tibet side in China. Everest base camp north Tibet offers mind blowing views of Mount Everest.
These are the closest places to see Mount Everest as well as other majestic mountains of the Himalayas. Beside that there are so many Everest viewpoints in eastern part of Nepal like, Panorama hill, Nagarkot, Pikey Peak etc. The view of Mount Everest from some of these points is highly amazing.
I think now you are clear about Where to see Mount Everest in Nepal? The trekking trails to EBC start either from Jiri, Salleri or Lukla passes through Namche bazaar and discover KalaPatthar and Everest base camp south Nepal. Base Camp Excursion is the Everest region specialist Adventure Company based n Kathmandu.
Organize Everest base camp trek Nepal to see Mount Everest including sunrise and sunset from the best Everest view points on the way to EBC. Write us to get the latest private trip quote and group joining space availability and fix departure dates.