Which is the best jacket for Everest base camp trek clothing advice
There are verities of jacket available in market, which is useful to use while going to severe temperature and high altitude. Here we are going to make clear about the best jacket for Everest base camp trek. In order to adapt to the temperature variations and to make the trip safe as well as comfortable, the trekkers may have additional warm layers. The selection of clothing for Everest base camp trek is very important while choosing the dresses for the different layers. The base layer of the clothing should ensure to keep the body warm and keep moisture away.
Select the best types of jacket for Everest base camp trek to keep warm from cold during hiking. Follow expert advice to buy or renting Goretex or similar down jacket for Everest base camp trek and visit EBC in best time of the year for better experience in the Himalayas.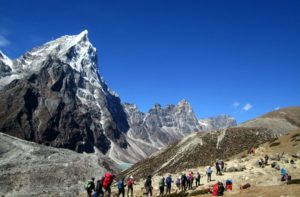 Everest base camp trek, 9 days, 10 days, 12 days, 14 days
Mount Everest view trek, 5 days, 7 days
Gokyo lakes trek
Everest Cho la pass trek
Everest base camp trek via Jiri
Luxury Everest base camp trek
Everest three pass trek
Ama Dablam base camp trek
Phaplu to Everest base camp trek
Gokyo to Renjo la pass trek
Which down jacket for EBC Nepal?
While you are trekking to Everest base camp in the best time of the year you can walk with normal clothes during the day time. It is good to have a best down jacket or fleece jacket for Everest base camp trek to keep your body warm in evening and morning. To go to the Everest base camp and Kalapatthar you have to wear down jacket. When hiking kalapatthar please make sure you have good quality gloves to protect your fingers.
You also need woolen hat to protect your head. Those who go for Everest base camp trek in the months of December to February should ensure to wear clothing that keeps them warm because these are winter months. Most of the warm types of clothing are not breathable. We advise you to buy warm and breathable to make trip easier to go. Snow can fall any time of year above 3800 meters, so be prepared with warm clothes and waterproof layers.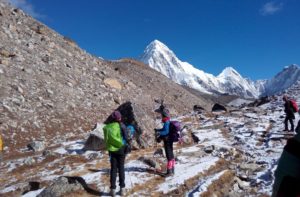 Select the Jackets which are lightweight and warm
The second layer of dressing for the Everest base camp trek should ensure proper insulation of the body. Jackets are worn as the second layer, made of fleece type fabric and down feather.
All these characteristics and its reasonable price and your selection make it the best jacket for Everest base camp trek. Check the Everest base camp trek packing list to pack other gears. If you are traveling to Nepal on budget then you can get cheap and best trekking gear in Kathmandu fake brand. Really best money saver and good for only trekking trip.
Which is the best jacket for EBC trek?
Naturally, there can be varied answers to this question. However, for the readers of this article it is suggested that those who undertake Everest base camp trek may wear Fleece Jacket for the second layer of their clothing after best layer inside. The North Face, Marmot, Patagonia, Arc'teryx and Columbia are considered as the best jackets for the third layer clothing for the trek. Well preparation is an important before going to high altitude.
The clothing that one wears during trekking must be lightweight so as to ensure hassle-free movement of the body. The trekkers have to wear these jackets and trousers to withstand the very cold weather at higher altitudes and also to protect the body when it is raining on the way.
There are not any specific down jacket people have used for a trek to Everest base camp. You can use any according to your choice and budget but it is important to keep you warm. We are local adventure company based in Kathmandu. Organize luxury Everest base camp trek as per your requirements remember us to get the best price and service.