Who was the first person to climb Mount Everest Himalayas
There have been men people have taken an expedition to Mount Everest and have been successful at it. But do you know who was the first person to climb Mount Everest? Who was the first person to ever set foot in the snowy peaks of Everest and created history?
His name is Sir Edmund Hilary
The first person to climb Mount Everest against all difficulties was Sir Edmund Hilary, who originally hails from New Zealand, and he was accompanied by a local Sherpa by the name of Tenzing Norgay. These two people made history by being the first people to actually explore the icy summits of the Everest at a height of 29,035 feet above sea level.
Statue of Tenzing Norgay at Namche first person to Climb Mount Everest in 1953, it helps to know the history of Mount Everest climbing. Follow the footsteps of first person who climb Mount Everest, go for Mount Everest base camp trek and other Everest region trekking in Nepal.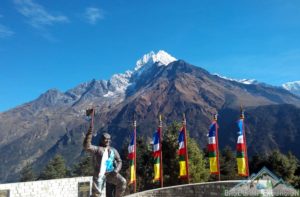 Everest base camp trek
Mount Everest view trek
Gokyo lakes trek
Everest Cho la pass trek
Everest base camp trek via Jiri
Luxury Everest base camp trek
Everest three pass trek
Ama Dablam base camp trek
Phaplu to Everest base camp trek
Gokyo to Renjo la pass trek
When was the legendary day?
The day when history got written is May 29, the year 1953 and the time was 11:30 in the morning. Sir Edmund Hillary and Tenzing Norgay were the only two fortunate persons to make it to the top. Both of them were actually members of a British expedition team who finally made to the peak after they had to spend a difficult and rough night at a height of 27,900 feet. Finally, news of their achievements reached the world on the 2nd of June which was also the day when Queen Elizabeth ii was coroneted.
Everest was given the title of Mother Goddess of the land by the people of Tibet whereas the people from England have named this highest summit after a British surveyor from South Asia in the 19th century, Sir George Everest.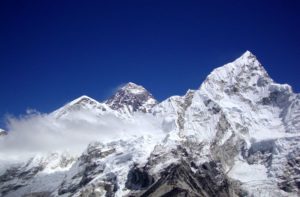 Many similar expeditions carried out earlier were nothing but unsuccessful
There were several such expeditions which were made by people prior to the success of Sir Edmund Hilary. Local people from Tibet tried the Tibetan route through the north ridge but it was to no avail, and it was after the Second World War, and Tibet closed its gates for the foreigners only to open it once again in the year in the year 1949.
The people from Britain carried out many such expeditions around the year 1950 and 1951, but it was not till 1952 that Britain got success in the form of legend Sir Edmund Hilary the first person to climb Mount Everest.
All the members of this expedition in 1952 were given high-quality trekking equipment to help them make history.
Now you are clear about who was the first person to climb Mount Everest. If you interested to follow the footsteps of legendary walking from jiri to Everest base camp or Everest base camp trek from Lukla or Everest summit write us. We provide porters and guides, food, accommodation, airport transfers and other all arrangements for ultimate trekking and hiking experience.